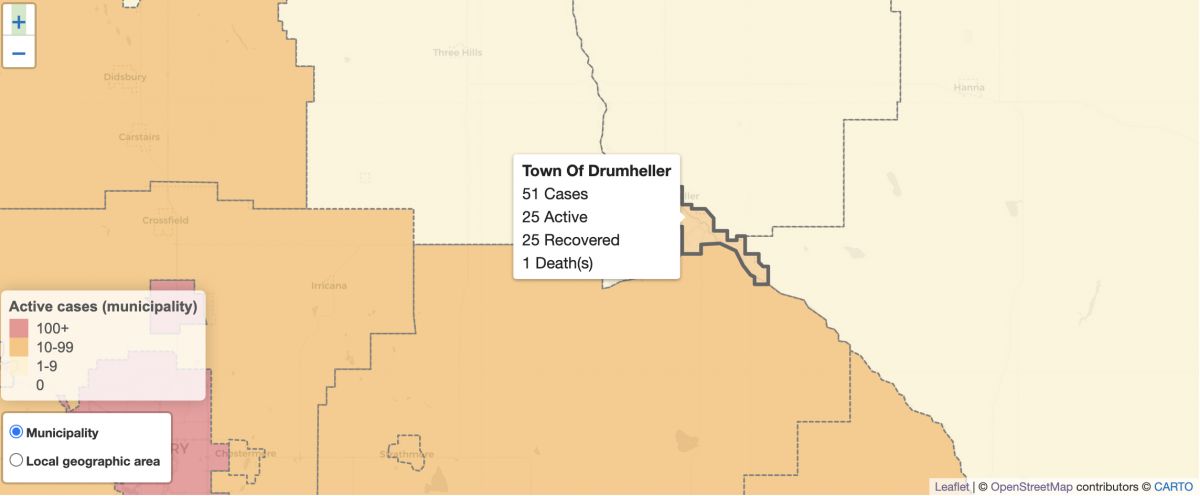 COVID-19 numbers in Drumheller continue to rise, and last week, the community was designated an enhanced status with new restrictions in place.
The enhanced status came last Thursday, November 12 as the number of active cases in the valley rose to 11. As of Monday, November 16, there are 25 active cases in Drumheller and one death.
"We ask that all residents make an effort to limit non-essential travel to metro areas or other hot-spots," says Heather Colberg, Mayor of the Town of Drumheller. "Continue to be diligent on proper hand hygiene, physical distancing, and wearing a mask when you cannot be distant."
The enhanced restrictions set by Alberta Health Services (AHS) include both mandatory and voluntary measures to prevent the spread. This has had an impact on the community, and businesses and organizations are making adjustments. On Monday, November 9, a resident at Maple Ridge Manor tested positive, and the resident population was tested.
"Contact tracing will occur as per the process in the event the case is confirmed by the lab as COVID-19, and isolation and monitoring of other residents is being implemented as per public health guidelines," said Heather Kipling of AHS.
The Pioneer Trail Centre was also closed because of potential exposure, as were a few other businesses.
Dr. Veronique Ram of Riverside Medical Clinic says it is important for the community to make adjustments to be safe.
"I think I speak for many when I say that the rise in numbers definitely makes me nervous. I know there's lots of talk about how this is only a cold, and many manage just fine with it," she said. "But the concern of a strain on our health system is significant. We are a small but busy centre. Leadership is working tirelessly to keep us running and safe but we need the community to take this seriously and follow the recommended safety measures."
Drumheller Associated Physicians have changed their protocols at the clinic, returning to conducting appointments by telephone.
"Due to the growing number of Community cases in Drumheller, the Drumheller Associated Physicians will be going back to all appointments by phone calls only," it states on its Facebook page. "If the Physician needs to bring you into the clinic, they will arrange the in-person appointment with you. The Walk-In part of the clinic will continue to run, but we will ask you to remain in your vehicles until it is your appointment time. The Physician in the Walk-In will call you first for screening purposes and making sure they are handling each patient appropriately to their needs."
While so far Drumheller has not introduced any further measures, the province has. Premier Jason Kenney announced these measures on November 13.
These include:
• Restaurants, bars, lounges, and pubs must stop liquor sales by 10 p.m. and close by 11 p.m. - applies to Class A, B, or C licences (Nov 13-27).
• 15-person limit on social and family gatherings - indoors and outdoors – where people are mixing and mingling.
• 50-person limit on indoor and outdoor wedding ceremonies and funeral services.
• Faith-based gatherings limited to 1/3 capacity at one time.
Voluntary measures include:
• No social gatherings inside your home or outside of your community. Instead, socialize outdoors or in structured settings, like restaurants or other businesses that are subject to legal limits and take steps to prevent transmission.
• Limit of 3 cohorts: your core household, your school, and one other sport or social cohort. Young children who attend child care can be part of 4 cohorts.
• Wear a mask in all indoor work settings, except when alone in a workspace or an appropriate barrier is in place.
• Employers in office settings should implement measures to reduce the number of employees in the workplace at one time.
Currently, there is one active case in Starland County and seven in Kneehill County, however Wheatland County has been deemed enhanced status with 27 active cases.