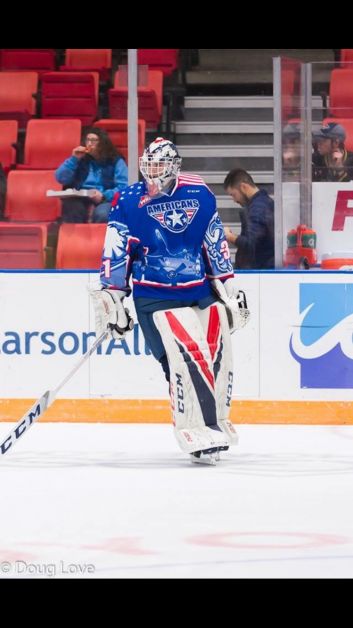 In this season of COVID-19, there is one Drumheller goalie who wishes he was with the Americans.
Talyn Boyko, 17, son of Sharla and Kelly, is one of the goalies for the Tri-City Americans of the WHL. He is entering his third season with the team, but the pandemic has put a hold on this.
"I'm still in town, we aren't to go back until November. The season is supposed to start in December," Boyko tells the Mail.
The Americans only had three games left in the regular season when COVID-19 hit in March. While the Americans weren't playoff-bound it was a great season of learning for Boyko.
He worked his way into a starting position in the second half of the season and in 24 games had a save percentage of 0.892 and a 4.52 GGA.
"We improved quite a bit throughout the years as teammates and as a group, and I think coming into this year we are excited and ready to go," he said. "Personally, I thought we had a really good year, and I want to carry over those lessons into the next season."
This season he learned the impact he can make off the ice befriending kindergartener Carson Moore, who is a super fan. He was also born with one kidney. He has become a motivator for Boyko.
'It is really nice to be able to chat with him and he is such a big fan. It is cool to make this kind of impact.," said Boyko. "It is a special position you are in not only as a hockey player but as a person to make a big impact in the community."
Despite the delayed start, he is making good use of his time.
"Obviously you want to be back with the guys, but this extra time is not going to waste. You use it to make yourself better and come to camp in better shape," he said
"I am training in Calgary four times a week. I work out at Crash Conditioning and skate with the same group. There is a lot of pretty high-end Western Hockey League guys in the group, and lots of competitive games," he said.
He has two more years of eligibility, but this is his NHL draft year. He is looking forward to the season, whenever it may come.
"We have a hard-working group, and they are working hard during this time. Everyone is working towards being better as individuals and as a team," he said.