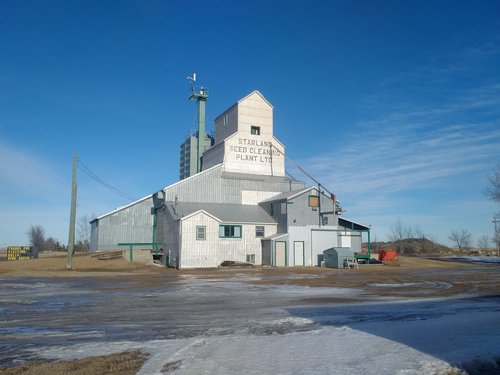 As the Starland Seed Cleaning Plant in Delia nears 60 years in operation, the co-operative that manages the facility is looking toward the future with a new plant.
The existing plant in Delia was built in 1959 and began operations in 1961. Since then, the scale of farming operations, and the equipment needed, has gotten bigger than the plant can handle.
"It's an ambitious project," said secretary for the Starland Seed Cleaning Plant Co-operative, Al Hampton. "It's something we need as the existing facility is not able to do much more."
The current facility was built to accommodate equipment of the time--mostly two and three ton vehicles--and not the bigger trailer units used by farmers today.
Starland County released a survey in June to area farmers to assess their needs and desires for the new facility. The current estimated value of the project is $5 million and Hampton says the co-operative is "fairly ambitious" about raising funds.
They are also looking at how to incorporate the old facility into the new structure as it has been an integral part of the community for many years.
A consultant from Lewis M. Carter of Saskatoon, Saskatchewan has been hired for the project, and the co-operative has secured a loan in principle according to Hampton, though they must meet certain parameters.
"To launch a project like this, you've got one viable shot at it," Hampton told the Mail. Hampton added, "Stakeholders want to see what is in it for them."
The new facility would also benefit the community by creating new jobs. Current projections indicate the facility would be able to hire two to three employees, and Hampton noted, "A value-added component (for the new facility) would be cleaning grains for export."
To export, the new facility would need to accommodate larger trailers as well as freight containers, though it would open the plant up to a "competitive, niche market." If exports go well, Hampton is hopeful the facility could hire as many as five or six employees.
While the job numbers may seem low, the creation of jobs for a small, rural community like Delia can have immense benefits.
"It can mean the difference between graduates staying in the community or leaving to find jobs elsewhere," Hampton said.
Starland Seed Cleaning Plant Co-operative will hold its annual general meeting later in the year, though no date has been set at this time. As the co-operative is made up of farmers, Hampton said the meeting would need to wait until the end of harvest, "as soon as the last combine is finished," though this may not be until October or November.
Hampton is hopeful if all goes well shovels could break ground as early as April 2021.