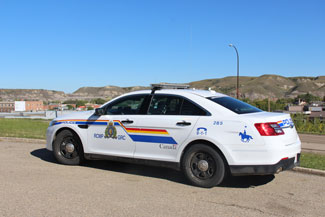 While rural crime continues to be forefront in the news, it appears some numbers might be trending down in the Drumheller area.
In comparing the second quarter of 2020 to previous years, there appears to be a drop in incidents in the Drumheller municipal detachment as well as in the rural area.
In the Drumheller detachment crimes against a person, such as assaults and threats saw a 13 per cent drop compared to second quarters from 2016 – 2020 and a 22 per cent drop over 2019. Similarly, in the rural area, there was a drop of 46 per cent when compared to all years and a 37 per cent drop, compared to 2019.
Similarly, property offenses dropped by 44 per cent in the Drumheller detachment compared to 2019 and 31 per cent in the rural area.
While property offenses are trending down, it appears suspicious persons reports are going up locally and rurally.
Staff Sargeant Ed Bourque says there are a number of reasons to see these kinds of drops, and notes because Drumheller is a relatively small detachment, a large swing percentage-wise might mean a change of just a few incidents.
Another reason might be COVID -19 leading to less criminal activity.
He adds that often some crimes go unreported such as theft under $5,000 which might affect the official statistics and notes it is important for residents to report any crime no matter how small.
Drug activity appears to also be falling. The municipal detachment saw a drop of 38 per cent over the second quarter of 2019.
He says in a community the size of Drumheller, the simple arrest and incarceration of a habitual offender can make big differences in some categories.
"Most of this is driven by the drug sector and when certain individuals are in jail, then they are not going after other people for debts and causing others to go out and commit break and enters and thefts," said Bourque.
He also gives credit to the Drumheller detachment's operation officers who work diligently to making sure accused and offenders are adhering to court conditions such as curfew.
"Maybe they will think twice about going out and doing crime all night … chances are they may not get caught, but they may be caught by being not at home and being breached," said Bourgue. "I believe it is a big impact they are making locally."
Bourque says a part of the Drumheller detachment's success is the Crime Reduction Unit in Drumheller. Crime Reduction Units were introduced a few years ago and these work to generate intelligence locally and also share it across the province. The Drumheller Crime reduction Unit has been running for about a year. This helps track travelling criminals, as well as identify trends, such as thefts from industrial sites. The detachment can allocate resources to make an impact in these areas, including plainclothes work as well as uniformed officers.