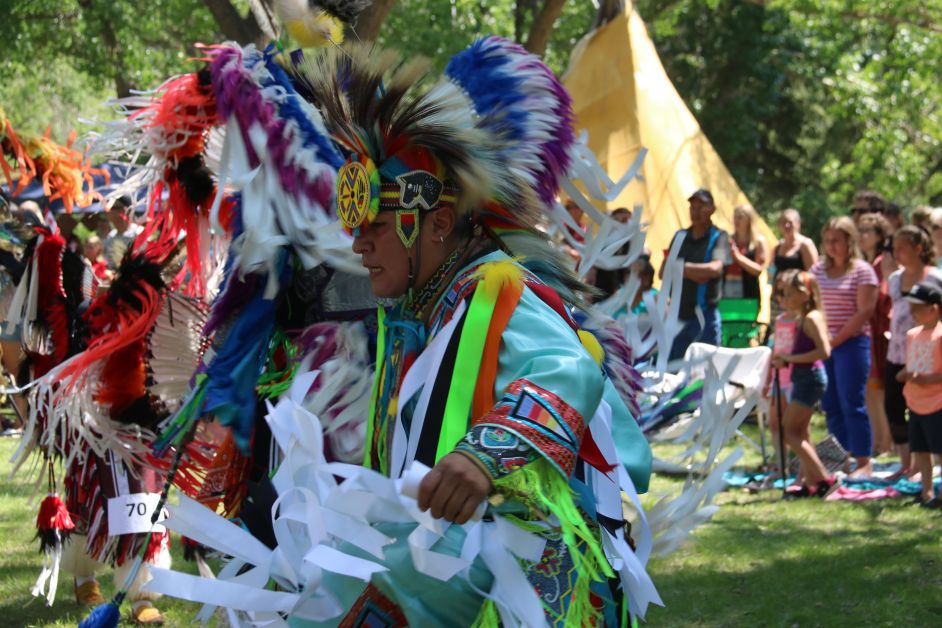 In its short three-year history the Dancing with the Dinosaurs Powwow has become a premier event on Canada Day in Drumheller.
It is also now an award winner.
Organizers Mike and Lynn Fabrick learned this month that Dancing with the Dinosaurs has been selected for the Cindy Amos Tourism Champion Award. It was presented at the Canadian Badlands Tourism Development Conference on March 5 in Strathmore.
The Dancing with the Dinosaurs Powwow began in 2017, and already planners are getting ready for this year's event on Canada Day in the park near the Badlands Community Facility. The cultural celebration attracts dozens of dancers to share their performances. Mike says there is a lot of hard work by volunteers into putting on the event, and it also enjoys great support from the community.
This year Mike says they will be changing the format a little bit this season, but the show will go on.
The award is named after Cindy Amos, who served as executive director of Canadian Badlands. This award is open to municipalities, organizations and groups that exemplify the characteristics that made Ms. Amos a true champion of Tourism in the Canadian Badlands.
The submissions for the award are adjudicated on the demonstration of leadership, efforts to promote tourism and development, collaboration and the impact of the group's efforts.
The winner of the award receives a plaque, recognition on the Canadian Badlands website and a contribution of $250 will be made in the winner's name to the Cindy Amos Memorial Scholarship at SAIT.