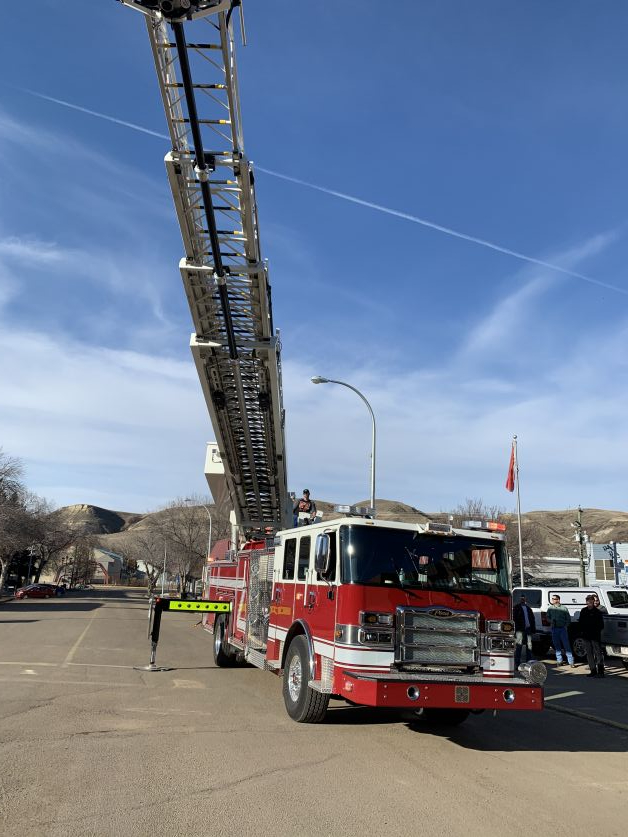 The Drumheller Fire Department took delivery of its latest addition to its fleet.
The department's 2019 Pierce Ascendants Quint Aerial Platform Ladder/Pumper Truck arrived Friday afternoon, March 27. Fire Chief Bruce Wade is happy to see the apparatus arrive, and says they will have it in service very soon.
"It just got into town, so we will get some equipment on it, and hopefully some training on it this week," said Wade.
The new "Quint" (five-function apparatus) is destined to soon replace the 1982 Superior Simone Snorkel Truck. This new apparatus has greater capabilities and versatility. Any firefighter with a Class 5 license and air brake (Q) endorsement can drive the new truck. It is easier to maneuver and is quicker to set up and takes less manpower. It also has tank and pump capabilities.
"It is set up so it is more or less foolproof. If we try to get it to do something it isn't designed for, it won't allow it so there are lots of safety features built into it," said Wade. "It is a new, more efficient technology."
This will be a first response vehicle, called upon for structure fires.
The town had been budgeting funds for the replacement truck for about four years. The truck came in at $1,316,841.