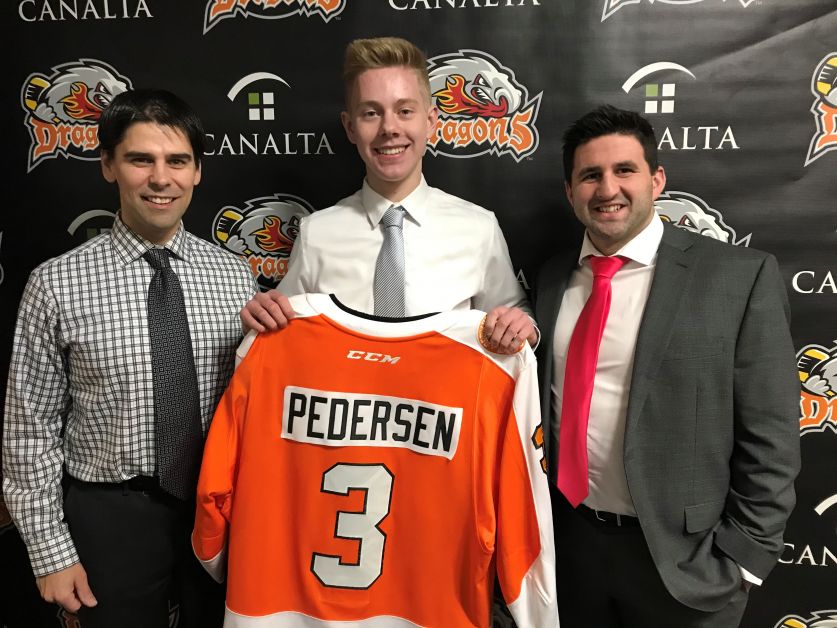 The Dragons are adding to its roster for the coming year with three key signings over the last two weeks.
On January 23, Tye Pedersen signed a Letter of Intent with the Dragons for the 2020-2021 season.
Pedersen is 6'2" defenseman from St. Albert. He currently plays for the St. Albert Raiders AAA midget team.
It's a really exciting feeling" says Tye. "But you still have to keep working hard all summer long. I want to get bigger and stronger."
On the same day, the Dragons also saw Jordan Edwards sign with the team. Another big defenseman, the Saskatoon native is currently playing with the Phoenix Jr. Coyotes U18 club. Before heading south to Arizona, he played with the Saskatoon Blazers AAA Midget club.
On January 27, the Dragons latched on to another prospect in the Phoenix Junior Coyotes program. Rhett Gibson is a 2002–born forward from Saskatoon. So far this season he has 10 points in 15 games with the U19 Coyotes. In the previous season with the Saskatoon Blazers, he notched 38 points in 38 games.
On February 4 the Dragons announced Hayden Prosofsky has signed a Letter of Intent for the 2020/2021 season. Hayden comes from a hockey family in Medicine Hat, AB and is looking to be a big part of the Dragons forward unit next season. The 6'2" forward is currently playing with the Lethbridge Hurricanes Midget AAA Club (AMHL) and has 14 points in 30 games.