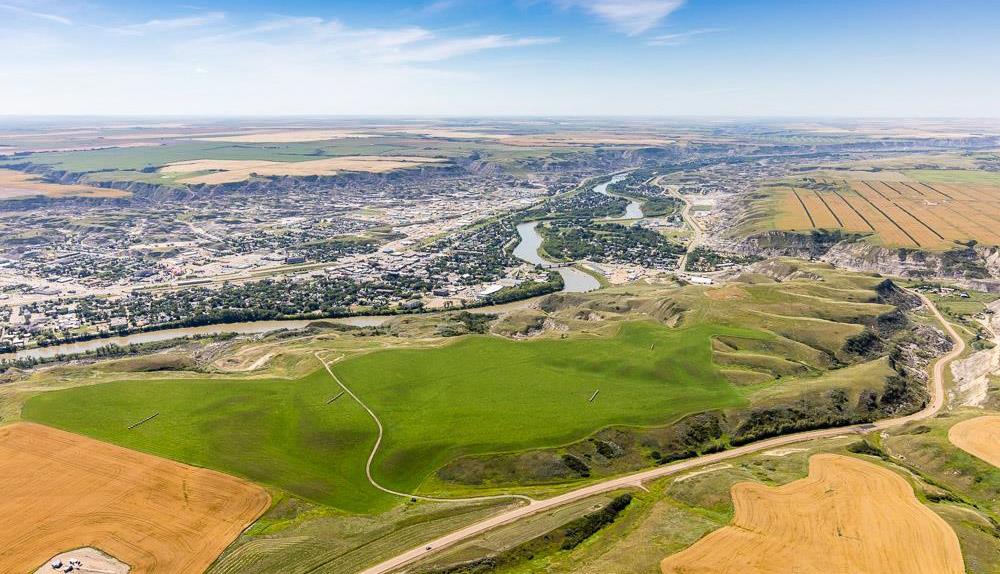 An application to re-zone 138 acres east of Drumheller on Secondary Hwy 576 from Agriculture to Residential Cottage Housing District (R-CH) received first reading from Drumheller Town Council on January 20th.
The change in zoning will make way for a proposed three-season recreational resort to be named Raptor Ridge. Tagged as "A Recreational Resort", the first phase will contain up to 150 individually titled lots and amenities for seasonal RV's and cottages in a private setting as opposed to a public campground where people rent spots for the short or long term.
The current zoning as Agriculture lists Campground as a discretionary use. Campground is defined as "a recreational development for the purpose of providing temporary accommodation for recreational vehicles or tents". This definition no longer fits the modern camping family.
Upgrading the zoning to R-CH broadens the permitted uses to include washrooms, laundry facilities, and cottages. Zoning as R-CH also assures that certain setbacks relating to roads, auxiliary buildings and yards are met. These setback requirements will also ensure that this project is not visible from the valley.
The development of an RV and Cottage community is a natural fit according to developers. The application speaks to how this community will benefit the area economically and become an extension of the Drumheller community.
Partner and project manager Bob Doornenbal said, "Everyone knows that Drumheller is a destination for dinosaurs, sunshine and a multitude of other tourism-related activities. We'd like to build a recreational community that ties these local attractions to being able to enjoy modern style camping and cottaging from May to October."
"Camping has changed," Doornenbal said. "RV's have increased in size and amenities. People simply want to get in the car and go without having to hook up, fuel up and then do it all over again when their vacation ends. At Raptor Ridge it's just moving your RV on to your own site once. That's it. That's where it stays."
Although this type of community is tax assessed accordingly it will be self-contained in providing its own infrastructure such as roads, maintenance, water, waste and recycling at no cost to the taxpayer.
Doornenbal states the economic benefits extend well beyond just a new tax base. "We know that every lot owner will locally spend $15,000 or more setting up their own private getaway. They'll build decks and sheds, plant flowers and build a sandbox for the kids. It's pride of ownership and will be managed through a Co-owners Association and their bylaws," he said. "And it doesn't stop there. People will also buy groceries and fuel and shop locally. They'll participate in community events which is a win for everyone," he stated.
Amenities proposed to be shared amongst owners include a lake, walking trails, playground, splash park, beach volleyball, and other family-friendly recreation.
"Some people will stay here all summer. Others will enjoy being able to come and relax for just a day or two whenever they want," said Doornenbal. "This is a big project for this area, and we're excited to introduce Raptor Ridge to Drumheller."
The public is invited to an open house to learn more about the development on Feb 6th at the Badlands Community Facility on the first level from 6 p.m. – 7:30 p.m. to speak with the developers and learn more about the project. Town Council has scheduled a public hearing prior to the second and third reading on Tuesday, February 18th.