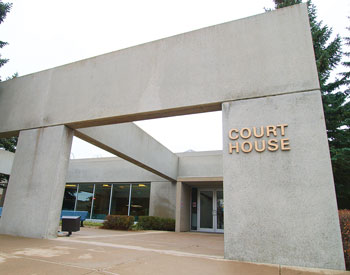 A Drumheller man was given a suspended sentence of 24 months after he pleaded guilty to several property-related and drug charges.
John McConnell appeared in provincial court in Drumheller on Friday, November 22. He cleared up his charges by entering a number of guilty pleas.
The court heard how on July 29, 2018, RCMP were investigating a stolen motorhome that was discovered on McConnell's property in Nacmine and came with a search warrant. McConnell drove up to the property on this day and was arrested. Police searched his vehicle and discovered 29 personal documents that were not to be in his possession, as well as a small amount of Methamphetamine in his glove box.
When RCMP searched the property they discovered about 13 grams of meth, two Vehicle Identifications Number plates, one showing signs of being altered and 12 forged digital documents related to vehicles. They also discovered ammunition for a shotgun and a 9 mm in the residence that was improperly stored.
McConnell also pleaded guilty to possession of stolen property over $5,000. On March 29 of this year, while McConnell was on release from these previous charges, police discovered a 2012 Ford F250 parked at his residence. It was stolen from Olds in January.
McConnell was sentenced to a 24 month suspended sentence and was put on probation for the duration. In the first 18 months of his sentence he is to abide by a curfew.