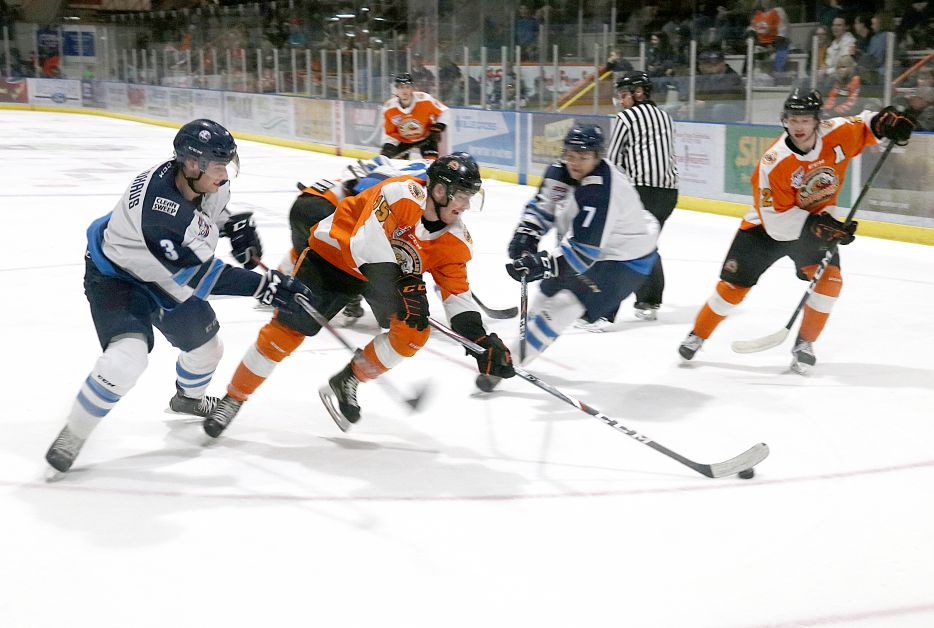 l
The Drumheller Dragons went on a scoring frenzy last weekend notching 15 goals in just two games and earning four points.
The Dragons hosted the Canmore Eagles on Friday night, November 22, and the Dragons' onslaught began 5:15 into the first period when Scout Truman scored. This was followed up by Adam Heindel who scored his third of the season, and then Eric Martin put the Dragons up 3-0.
The Eagles scored one in the first period and was able to tie it up five minutes into the second period. The Dragons went on a tear and Grayson Dietrich, Derrick Budz, Roc Truman, and Steve Zonneveld, put the Dragons up 7-3. The Eagles added one more to end the second period.
In the third period, Budz scored his second of the game, followed by Brady Risk. The Eagles added one more before Budz completed his hat-trick shorthanded with less than a minute and a half left. The Dragons won 10-5.
The Dragons peppered the Eagles with 45 shots. Both teams switched out their goalies.
On Saturday, November 23 the Dragons were in Camrose to take on the Kodiaks and the scoring continued. Kasey Hiemstra, Jeremie Roy, and Scout Truman put the Dragons up 3-0 in the first period.
The Kodiaks scored at the tail end of the second period, but the Dragons persisted in the third with Roy scoring his second, and Luke Fennig made it 5-1 to end the game. Colin Ahern got the win for the Dragons in net, stopping 40 shots.
The four-point weekend helped the Dragons pull further ahead of the Kodiaks as they hang on to third place in the Viterra AJHL South division.
This Thursday, November 28 the Dragons host the Whitecourt Wolverines and then Friday the Brooks Bandits. On Sunday they head to Calgary to play the Canucks.