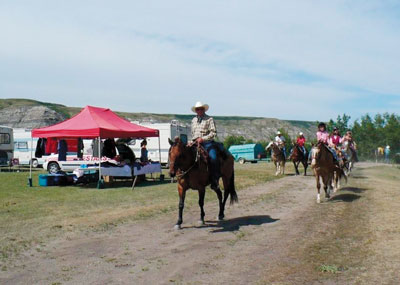 The annual Rumsey Ride for STARS set another record in its most successful ride ever, topping last year's total.
The ride, in its 19th year is STARS's longest running fundraising event. They went in hoping to top last year's total of $29,781, it's best result to date.
On Sunday afternoon, August 10, committee chair Ernie Goddard announced from pledges alone, the ride topped $22,000. Figuring in the silent auction, poker run, quilt raffle and annual dinner, the event raised $31,811. These funds help keep STARS in the air.
"It (STARS) is insurance we hope we never have to use, but we're sure glad it's there when we need it," said Goddard.
This year 95 riders took part in one of three rides designed for all ages and levels of riding experience starting at the Bar TL Ranch.
The event was a success on all accounts as riders enjoyed great weather all day for the ride. This was the third year for the silent auction, and the community showed great support giving 192 items to be put on the block. In total it raised $5,823. The supper raised another $1,223 and the quilt raffle raised a tremendous $1,398. Cheryl Lumley won first prize, Carol Macy won the steam train tickets and Jeanette Kowalchuk won the afghan.
This year Ernie Goddard was the top fundraiser, bringing in $5,030 in pledges, although he admitted it was a team effort as Jacqui, his wife, drummed up a number of pledges. He won a belt buckle donated by the Rumsey Ag. Society. In second place was Shirley Woods. Although she was not able to ride this year, she raised $3,520, and won a vest donated by STARS. Rosalie Macfarlane raised $3,165 and received a photo album donated by Heavy Metals Auto Wreckers.
Honorable mentions include Ron Lumley who raised $3,117, Joe Watmough who raised $780 and Tiffany Andrew who raised $500.
In the 15 and under riders, Mackenzie Andersen was the top fundraiser with $1,250 and received a belt buckle donated by Kanyon View Ranches (Ron and Kathryn Upton). Second place rider Nikki Vanderlee raised $500 and received a set of hand made pommel bags, crafted by Ernie Goddard. Justine Johnson was the third place winner and raised $120. She received a statue donated by the Yale Hotel.
The eldest rider was Elmer Turigan, at 76, and the youngest rider was Tiernan Lynch at 4 years of age.
This year's success put the Rumsey Ride's historic grand total over the $400k mark. In 19 years the event has raised $401,111.68.