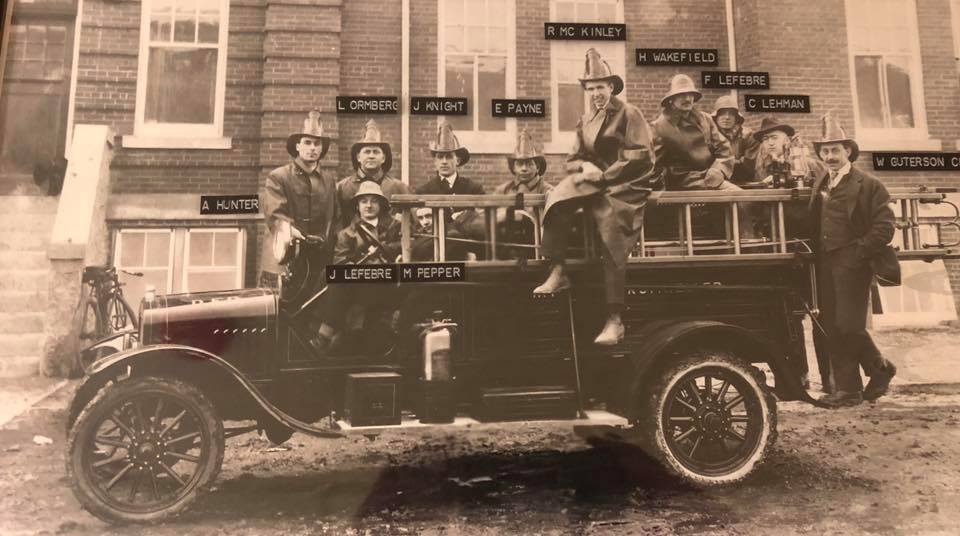 For almost as long as there has been the community of Drumheller, there have been men and women who will put their safety on the line to keep the community safe.
Those are the members, past and present, of the Drumheller Fire Department.
The department is celebrating a century this year and come October 19 they will be marking this milestone.
The highlight of their centennial celebration will be a dinner on Saturday, October 19 at the Badlands Community Facility. Firefighter Keith Hodgson says they have invited former members of the department and their families to the celebration, as well as the community at large.
He encourages anyone who wishes to celebrate the department and learn about its history to come out for an evening of fun.
It was on October 1, 1919, that William Guterson was appointed Fire Chief, signalling the first time that Drumheller had an organized fire department. There were 14 original members. By 1921 the department had two hand-drawn reels, four playpipes, two hydrant hose gates, 1250 feet of cotton hose and two ladders.
From those meager beginnings, the volunteer department has grown to three halls, serving the entire valley, as well as offering mutual aid to surrounding communities. It also has a full slate of state of the art equipment. As building material and the complexity of fighting fires have changed, the department has evolved to meet the need of ensuring it provides emergency services to the community.
The Drumheller Fire and Rescue 100th anniversary celebration is on Saturday, October 19 at the Badlands Community Facility. Cocktails are at 6 p.m. and dinner is at 7 p.m. Stories and visiting will follow dinner.
Tickets are available by going to www.eventbrite.ca and searching for Drumheller. Tickets are also available at Harper's Tire. For more information, email drumfire100@kch.ca.