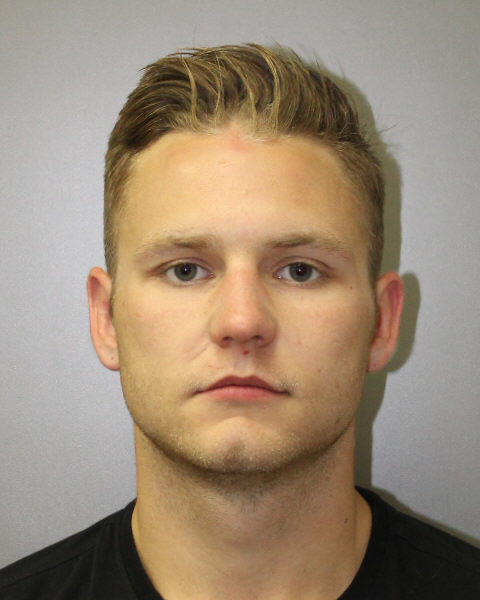 Two men with Drumheller ties were involved in a collision while fleeing from police in the Innisfail area.
The Innisfail General Investigative Section in partnership with the Innisfail detachment were conducting proactive enforcement efforts within the town of Innisfail. Police observed two males outside a confirmed stolen Chrysler Pacifica and attempted an arrest.
Both men managed to get into the vehicle, the driver of the stolen Pacifica attempted to flee and in the process clipped a police officer with the mirror of the vehicle. The police officer, who was on foot at the time, was not injured.
The driver did not stop and continued to flee at a high rate of speed and subsequently collided with a civilian motorist, again did not stop and continued driving until it collided with an underground parking barricade.
At this point, both male occupants fled on foot from police. Police arrived and after a short foot pursuit located and arrested one male on the scene. The driver of the stolen vehicle managed to escape and is currently wanted on numerous warrants for his arrest.
RCMP Innisfail was supported at the collision scene by Innisfail Fire Department along with Medavie Health Services West Ambulance. RCMP Innisfail detachment in partnership with Innisfail GIS with the support of RCMP forensic identification services and the RCMP forensic collision re-constructionist continue to investigate.
Jesse Bulechowsky, 37, of Innisfail, Alberta has been charged with possession of property obtained by crime over $,5000, resist arrest, flight from police, fail to stop after an accident and two counts of failing to comply with conditions.
Bulechowsky was remanded to appear before a judge in Red Deer provincial court on September 4.
Chase Gordon Donovan, 25, of Red Deer is wanted by police on a number of outstanding charges, including: possession of property obtained by crime over $5,000, assault to resist or prevent arrest, flight from police, fail to stop after accident, dangerous operation of a motor vehicle, four counts of fail to comply with undertaking or recognizance, and operate motor vehicle while prohibited
If you have information about this incident, please call the Innisfail RCMP at 403-227-3342 or call your local police. If you want to remain anonymous, you can contact Crime Stoppers by phone at 1-800-222-8477 (TIPS), by internet at www.tipsubmit.com, or by SMS (check your local Crime Stoppers www.crimestoppers.ab.ca for instructions).