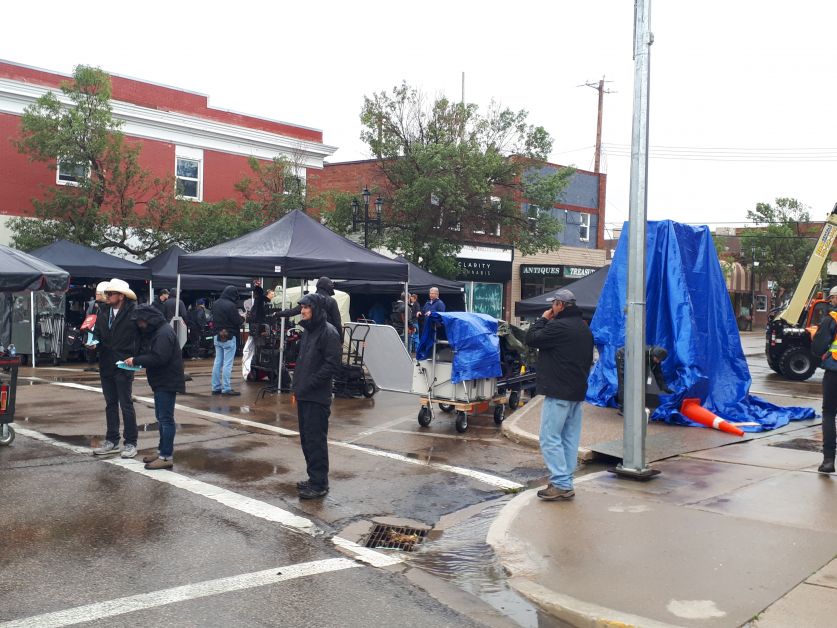 Downtown Drumheller was transformed into the fictional town of Summerville, Oklahoma for the 'Ghostbusters 2020' film production, which shot in the valley earlier this week.
The film, known officially under the false title 'Rust City,' and only confirmed by town officials as 'GB20,' is the upcoming fourth film in the 'Ghostbusters' franchise. The film is set to star the likes of Mckenna Grace, Finn Wolfhard, Logan Kim, and Paul Rudd and is directed by Jason Reitman, the son of the director of the first two Ghostbusters films.
"This is probably the biggest production here ever," said town Economic Development Manager Sean Wallace, who has been the single municipal point of contact for the production. While he and others have signed non-disclosure agreements prohibiting them from speaking about the film until after its release next year, he says the production crew staff probably number 150 and the economic spin-off for the town is "a real boon for the community," both economically and publicity-wise.
"It absolutely can be measured. If they are staying here they have to eat three meals a day, are booking hotels, buying souvenirs."
Crews started working downtown Drumheller last week to remove and replace signage along 3rd Avenue. Drum Wireless transformed into a U.S. post office, a doctor's office popped up on the corner of Centre Street, and there were a number of older-model cars parked in the street. Fans watched the production work along Centre Street and 3rd Avenue, which had been temporarily closed off to vehicle traffic, although foot traffic is still permitted.
Jason Nolan is a location scout for the production and said that in general Drumheller has an older charm that is easily suited to filming movies set in the past.
"It has a small town America, it's kind of stuck in time," he said. "There aren't many small towns like this left."
While Sony has been tight-lipped about the film, Dan Akroyd was spotted with the film's crews in Crossfield earlier this month, so the original cast from the 1984 film including Bill Murray, Ernie Hudson, and Sigourney Weaver may be making appearances. The film entered production in July of this year and has been filming portions at different locations in Crossfield, Beiseker, and Calgary.
Shooting seemed to take place on Monday. Most of the equpment and signage downtown, as well as the crew vehicles were mostly gone by early Tuesday afternoon.
Ghostbusters 2020 is scheduled for a July release next year.