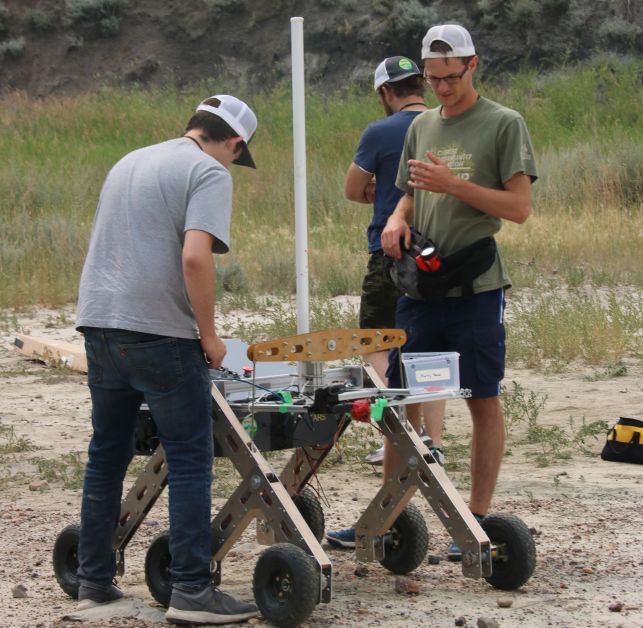 In three short years, the Canadian International Rover Challenge (CIRC) has grown into a premier event.
This year from August 9-12, 22 teams made up of post-secondary students from Canada, The United States, Germany, Poland, and Bangladesh will be in the valley to take on the terrain with robotic rovers.
"We wanted to have this competition in Drumheller because of the Badlands – they are beautiful, and the terrain is perfect for what we need. Drumheller is also a great place to host this because the infrastructure can support the teams that are coming. The Town and the Park have been great to work with in helping us to plan this competition, and we are grateful for their support," said organizer William Davis.
This is very different from the first event just three summers ago when there were two and a half teams. A half team because one team came with $300 and cobbled together and entry from parts procured from local hardware stores.
In 2018, the event was substantially bigger.
"We have gained some credibility. There are a couple of events around the world that are similar to this and it always takes a few years to get traction among the actual teams of participants. When teams saw what we did last year, with CIRC Central and having a place to work, and different tasks in comparison to what they were used to, it made a much more exciting prospect for them," said organizer Justin Gerein.
He explains that some of those original competitors from the first event now put on the challenge.
"It is composed of former participants from the competition. We have formed a non-profit organization called the Canadian Space Technology Advancements Group that acts as the organizing body of the competition," said Gerein.
He says the event is a manageable size for the volunteers to put on. One area of growth he sees is involvement from the technology sectors.
"We would like to see more companies within Canada become involved in this," said Gerein. "We have a surprising number of organizations, whether they are government-run or commercial companies that do space and robotic activities throughout Canada, so we would really like to see more of those groups get involved and train and excite the next generations of students going into those areas of industry."
The competition will be hosted at four sites throughout the valley with the Badlands Community Facility acting as the central location.
For more information to https://circ.cstag.ca.