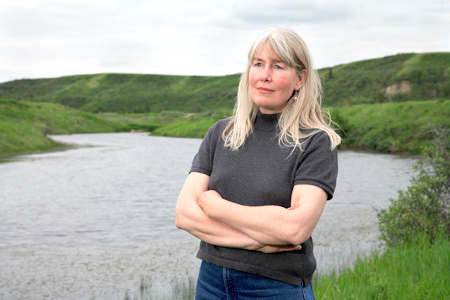 A lawsuit which started in 2007 and alleges Encana's fracking of coalbed methane near Rosebud contaminated community wells faces another setback as the case's lawyer has seemingly dropped out.
Jessica Ernst, a 62 year old oil patch consultant in Rosebud, says her lawyer gave word he was stopping work on the case last fall but held her website hostage for nine months and has not given her the case files or access to the $40,000 in a trust account.
Her lawsuit has been dragging on since 2007 when she originally initiated legal action claiming Encana's fracking from coalbed methane development by the company contaminated hers and others' wells in Rosebud. Hydraulic fracturing blasts open oil, gas, and coal formations with pressurized water or gasses, sand and chemicals to release oil or gas. Ernst's claim says EnCana broke multiple provincial regulations and laws and contaminated a shallow aquifer with natural gas and toxic chemicals. The methane content of her well water was purportedly so bad it can be lit on fire. The alleged incident of fracking and the lawsuit have received considerable recognition both locally and globally, with Ernst being invited to speak internationally and recognized as a Woman of Courage by UNANIMA, a United Nations Economic and Social Council.
The lawsuit against Encana for $11.7 million, the Energy Resource Conservation Board (now the Alberta Energy Regulator) for $10.75 million, and the Alberta crown (Alberta Environment) for $10.7 million, was heard in Drumheller courts before The AER part of it was moved to the Supreme Court, where the court ruled that the AER was legally immune from action.
But the lawsuit against Encana and Alberta Environment continues in provincial courts, contingent on when she gets control of the case files and trust. While Ernst continues to wait until the day a ruling against the two remaining defendants is given, and there are no scheduled dates until she finds new legal representation, she feels the case has been exhausting for both her and those in the community supporting her.
"If you're supporting a case, you start to lose heart when it drags on and on and on. It's very hard for people and it's hard for me, too. But I was the one who chose to do this," she says.
In a statement on their website, Encana says they are prepared to defend Ernst's claims "vigorously" in court and that "Ms. Ernst's claims are not supported by the facts and her lawsuit is without merit." The company says Ernst was uncooperative and on multiple occasions would not allow Encana to test her water, but Ernst says this is untrue.
Ernst says the company at one point offered to buy her land and relocate her, but withdrew their offer when she spoke out publicly.
Ernst says she went into the lawsuit with an understanding that the legal system is unfair, but she still "wants to see justice served."
"There always was a lot against me since the very beginning but to see how obvious the corruption is in the courts has shocked me to my very core."
She says the courts typically lean towards the industry's favour on environmental claims and Ernst alleges harassment and bullying by the defendants.
More information and updates with her case can be found on her website, www.ernstversusencana.ca.