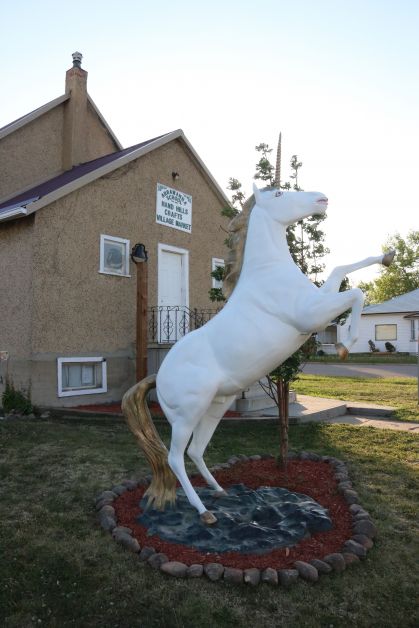 In Hanna, there is the goose, in Drumheller, there is the World's Largest Dinosaur, and now Delia has its very own icon, Morgan the Unicorn.
Dave Smeyers and Jane McMullen have opened Hand Hills Crafts in the Arrawanna School House, built in 1910 on Main Street in Delia. The venue is a comfortable place for artisans to show their talent and where tourists could visit and maybe find a treasure.
Featured in front of the market is Morgan, a full-sized unicorn who is rearing up on its hind legs. Smeyers explains the unicorn is the national animal of Scotland reflecting the people who settled in Delia, and it represents believing in yourself, enough to make your dreams come true.
"We are hoping that Mystic Morgan will attract a few tourists to the town. Drumheller has its dinosaurs, and now we have a beautiful unicorn. We are hoping people drop by to visit Mystic Morgan, (perhaps make a wish), have a specialty- coffee and check out the market," he said.