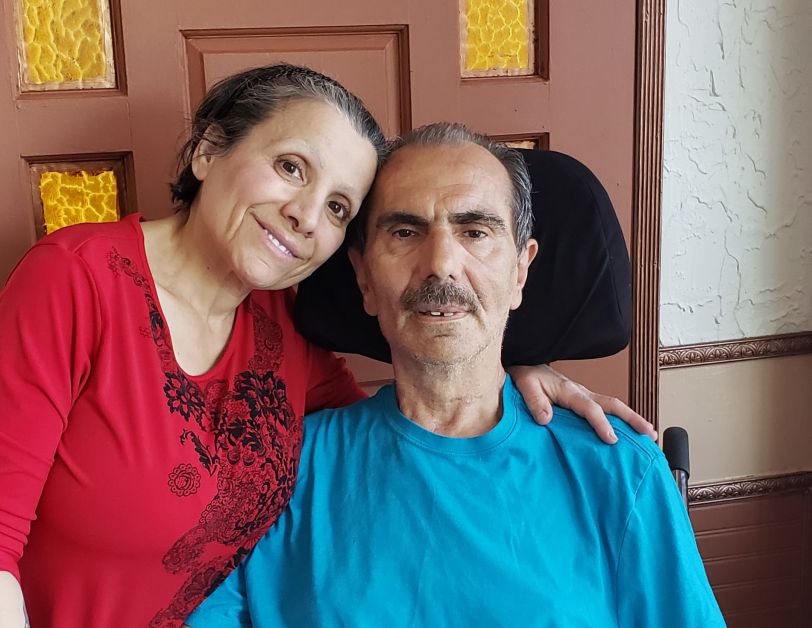 After a long six months that included surgery, recovery, and ongoing rehabilitation, Andy Triadopoulos is back home in the valley, thankful for the family and community that made it possible for him to be here.
In November of last year, just a day after his birthday, while on a hunting trip, Andy was involved in a tragic accident on the Verdant Valley road that took the life of one of his best friends. Andy was trapped under the vehicle, was rescued, and taken by STARS to Calgary.
He underwent seven hours of surgery and for the past six months, he has been recovering at Foothills Hospital. The collision has left him an incomplete quadriplegic. While he is thankful to be back in the valley, he is still currently residing at the Drumheller Health Centre. That has not stopped him from coming to the restaurant as the family prepares to reopen.
He is grateful for the care he received, from the emergency responders to the staff at the hospital. "I want to say thank you to everyone with concerns in the area, and also to the RCMP, the ambulance and special thanks to the volunteer firefighters and rescuers, they did an amazing job, and also to STARS," Andy told the Mail.
"Also, the Foothills Hospital treated me really good. We are lucky we live in this country, and this province, because had this been somewhere else, it wouldn't have been the same."
His wife Natasha adds, "One thing we would like to stress is the love and support we received from the people of Drumheller and surrounding area, we are very grateful for that. That gave us a lot of strength to keep going."
It has been a long process, but his wife was able to stay with family in Calgary to be by his side, and was at the hospital every day. The rest of the family made the trek into Calgary on a regular basis to support his recovery. Andy has kept an incredibly positive attitude throughout his recovery.
"We are trying to find our new normal, but dad has always had a positive outlook considering everything. He is pretty strong," said daughter Ariella.
"We try to look forward and be positive, that's all we can do," said Andy.
As his progress continued and he was no longer intubated, his appetite returned. He would request some home cooking. Not only would he ask, but would give specific directions on how to prepare it. Maybe a sly way of passing on some of his knowledge.
"So far they do a great job. I can't tell the difference," said Andy.
His mind has been on the restaurant, which he has operated for decades. The family hopes to reopen the Athens Greek Family Restaurant in the very near future.
"The restaurant, it has been 30 years, it's kind of like your baby, but I know it is in good hands, they care very well." He adds that part of his new responsibilities will be to babysit his grandkids, and he is looking forward to it.