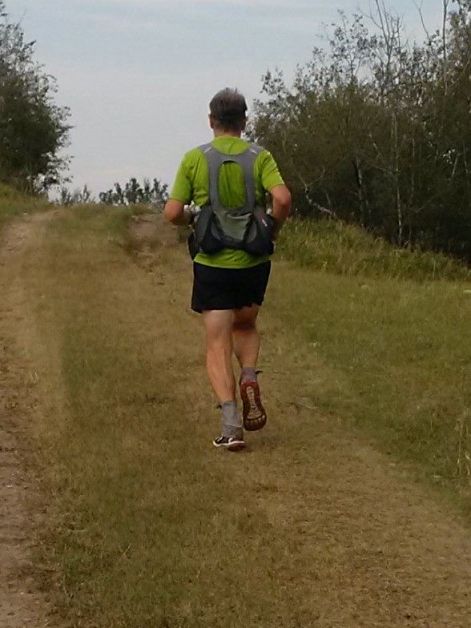 This fall the fittest of the fittest are hoping to descend on the valley for the X Ultra Marathon.
The event is being planned by X Warrior Challenge. Already local ultramarathoner Morgan Syvertsen has been busy creating a tentative route. They are planning for the event to take place in Midland Provincial Park.
"We love the area and we have always wanted to host an event in the Drumheller area, we love the landscape and the terrain," said Darcy Chalifoux of X Warrior Challenge.
Syvertsen says he and Karen McMillan met with Chalifoux and toured the area.
"He was absolutely sold, explains Syvertsen. "He does it differently, does it good. People he is getting out for these events are serious athletes."
They have been working on a low impact 50-kilometre route that uses existing established paths and game trails. The race also staggers its starts so there is no mass exodus.
"We are not going to be creating trails," said Syvertsen. "Karen McMillan and I went out and found a bunch of really great trails."
They are awaiting approval from Alberta Parks for permission to use the park.
"We are really hoping to work things out with the province, I think it is the right venue for us with a smaller event to make sure we do it right and then see where it goes," said Chalifoux.
He said the tentative date is Saturday, September 2. While X Warrior does many kinds of events such as obstacle courses, this will be a straightforward 50-kilometre ultra.
"It is straight running, four legs, and people can compete as soloists or two teams of four," said Chalifoux. "Over the last two years seasoned racers in our community, a lot of people are branching out looking for the next endurance event and trail running is certainly a big part of what we do. We listen to our participants."
He also understands the economic importance of events such as this.
"That is the goal. We want to bring everyone in at least the night before. We want people to make a weekend out of it, fill hotels, host a pre-event dinner and raise a little bit of money for charities," he said. "We want to make sure the whole community wins so we are not just rolling in and rolling out… that certainly is not what we want to do. We want to to become a part of the community calendar."
Those interested can go to www.xwarriorchallenge.com and sign on up a preregistration waitlist. Those on the list will have the first opportunity to sign up when the event is confirmed.
"The more people getting active, the more we all win, that is our goal with this company. I want more people to get off the couch, functional fitness is everything," he said.