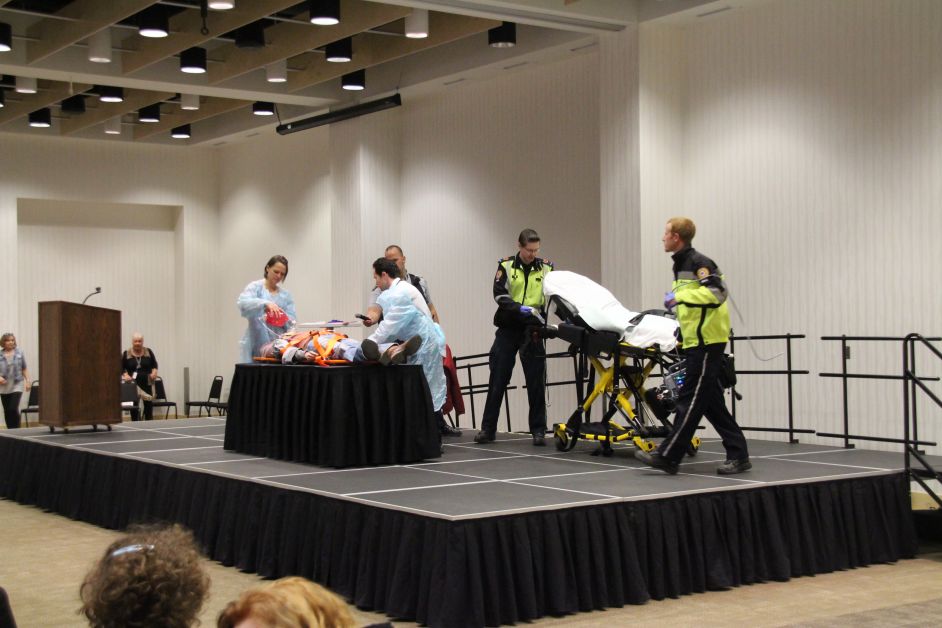 Grade 9 students in the area had a first hand look at the impact of making poor decisions behind the wheel, through the eyes of emergency responders.
The Drumheller and Area Asset Development Coalition hosted the second Impact Day at the Badlands Community Facility on Monday, May 6. They invited students from DVSS, St. Anthony's, Carbon School Wheatland Crossing and Acme/Linden to the daylong exercise.
Judy Nelson of Big Country Victim Services explains that the students are taken through the scenario of a fatal vehicle collision caused by an impaired driver.
The exercise begins at the scene where the Fire department extricates the victims from the cars, EMS is on the scene, as is the RCMP investigating. One person in the collision is deceased at the scene, while another is in critical conditions.
The students then witness as EMS and doctors work to save one of the victims. In the meantime, police have arrested and charged the driver.
The funeral home is called and plays a role and Victim Services is accompanied by the RCMP to inform the families of the loss of their child.
Nelson explains after a break for lunch, they have a panel discussion in the afternoon with the emergency responders to unpack the scenario and to answer questions. Nelson said they also invited a guest speaker, a child psychologist to be present.
Nelson says this is the second time they have hosted Impact Day in Drumheller they have run the program before in Hanna, and this week will be hosting their first in Oyen.