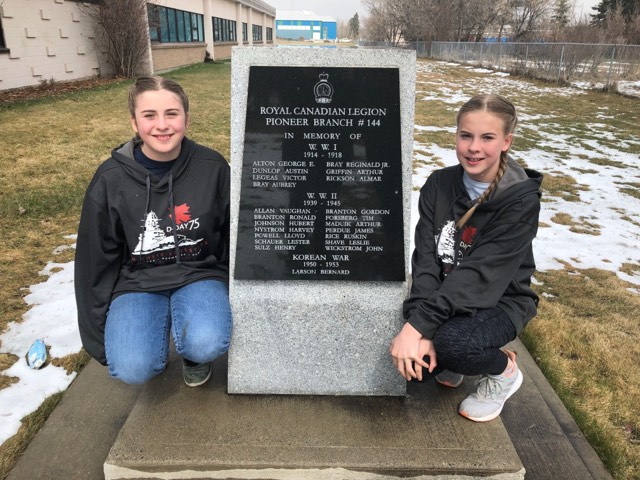 Two Drumheller Sea Cadets who are embarking on a trip to walk in the footsteps of the brave men who landed on Juno Beach on D-Day have already had an up close and personal experience with the family of two soldiers who perished at Normandy, France.
At the end of this month, 17 local Sea Cadets will be departing on a nine-day excursion to mark the 75th anniversary of D-Day. As part of the project, each cadet was given the name of a soldier who perished to research.
While the names of the soldiers were assigned at random, twins Amanda and Brooke Hanik were assigned two brothers, Gordon and Ronald Branton. As it turns out, they were from the community of Sunnybrook, Alberta.
In fact, they learned of the whereabouts of the family when, while doing their research, they discovered a third brother, Kenneth, who served but survived the war. However, he passed away in June of last year.
Gordon and Ronald were both of the Regina Rifle Regiment. Gordon perished on D-Day at the age of 24. Ronald was killed on July 8, 1944 at the age of 28. Both are buried at Beny-sur-Mer Canadian War Cemetery in France.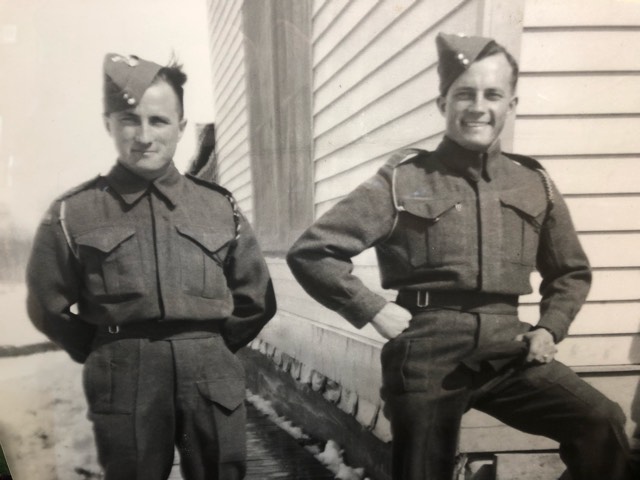 The cadets were able to make contact with the family and they were sent some incredible personal information about the men, and eventually an invite was extended to the cadets to meet.
"They said 'why don't you come to the farm?' and the girls can see some artifacts and read their words in their journals," said mother Diana Hanik.
The family has some personal artifacts including the soldiers' medals, journals, and correspondence between the three siblings during wartime. One had fallen in love with a nurse and one collected a number of trophies for his athletic prowess.
Gordon and Ronald were nearing the end of their service when they joined up again and were part of the D-Day landing. Their brother Kenneth was missing and the family had learned he had been taken prisoner of war. Part of the brothers' motivation to reenlist was to not leave their brother behind.
One artifact was a cigarette case that held their correspondence, that had a bullet mark.
"Kenneth was shot in the chest and he had all the letters in the tobacco tin. It was over his heart. He was actually blown off his feet," said Diana.
The case saved his life.
When Kenneth was liberated, he made his way back to England and was able to collect some of his brothers' effects before returning home.
The family asked the cadets to lay flowers on the brothers' graves, and each of the 17 cadets will be doing the last post at each grave.
The family has invited the cadets back to meet the girls at the conclusion of the trip.
"We made a really beautiful connection with this family," said Diana.