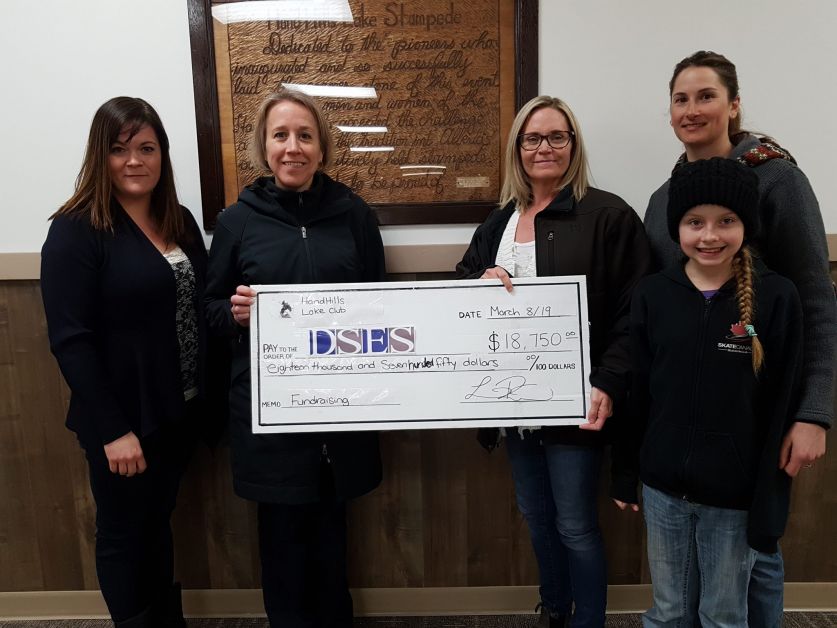 At their annual Charity Auction on March 8, the Hand Hills Lake Club shared their $18,750 contribution towards the Delia School Enhancement Society (DSES) Make Your Mark capital fundraising campaign.
The contribution, which will be recognized in the new facility with a classroom named after the Club, was the culmination of many events the Hand Hills Lake Club has hosted including their Turkey Supper, Ranchers Ball, Valentines Dinner, and the Charity Auction.
"It was a great night for family, friends and the DSES. Anyone who was at the Charity Auction should be really proud, we raised $5000 from the night alone," stated a release by the Hand Hills Lake Club. "Ground drifting and less than ideal highway conditions can't stop the Hand Hills! The chairs were full, lots of laughter, some awesome auction items, some good old-fashioned bidding, and a very successful evening. To those that donated, you are the best – we couldn't do it without you."
DSES is continuing to build on 2018's success with The Boots & Bow Ties Gala happening on April 6 at the Delia Community Hall. It will feature the Elton Lammie Band and home-grown talent care of the Suit Jacket Society.
"We are hoping to raise around $30,000 with this event, with all proceeds going towards the Make Your Mark campaign for the new Community Hub.," said Robyn Lake, of DSES
DSES has been hard at work securing fantastic auction items, with both a silent and live auction planned. The live auction of Sir Loin – the Black Angus calf donated by the Eleanor Rosin family and Shiloh Cattle Company – is planned as the night's main event. With incredible support from business and community members throughout the region, the Gala team has put together a smorgasbord of options for gala attendees to bid on.
To see the latest news and to find out more about the Boots & Bow Ties Gala – including how to secure your spot for the night - check out the DSES Facebook, Instagram or head to www.DSES.ca.