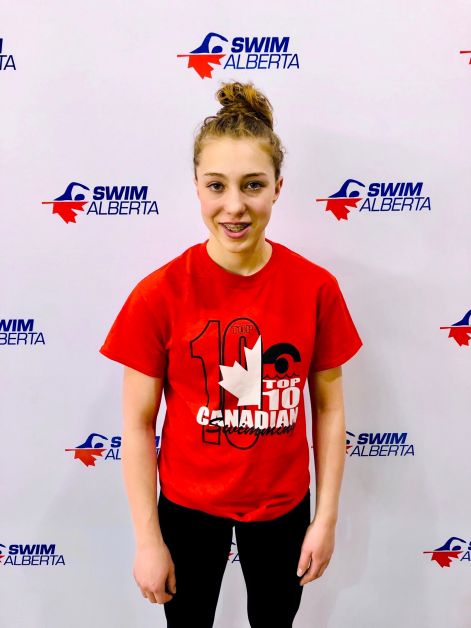 The Canadian Badlands Aquatic Club is having a busy and successful March. Nathan Dobell (14), Kiera Hansen (13) and Emily Martin (16) qualified for Short Course Provincials which was held in Calgary March 1-3. This was Hansen's first Provincials, who makes the drive from Hanna to train with the club 4 days a week. Dobell placed fifth in 50 meter Backstroke and achieved 3 new personal best times. Martin made finals with fifth in 100 meter Backstroke, sixth in 200 meter Backstroke and seventh in 50 meter Backstroke.
Ava Harrington qualified for Spring Championships which was held this past weekend in Edmonton. Having just turned 13 a few weeks ago, Harrington made an impressive debut in the 13-14 year old category making finals in 6 out of her 7 events and placing seventh in 50 meter Freestyle. Ava achieved Junior national times in both 50 meter Freestyle and 100 meter Freestyle and a Westerns time in 400 meter Freestyle. She was also presented with the coveted Swim Alberta Top Ten t-shirt for her ranking this season.
CBAC will host its annual Mini Meet on March 20 giving novice swim team members the chance to compete in a fun and relaxed environment. The novice swimmers will compete in their last meet of the season on April 7 in Okotoks as the advanced swimmers move into their long course season racing in 50 meter pools.