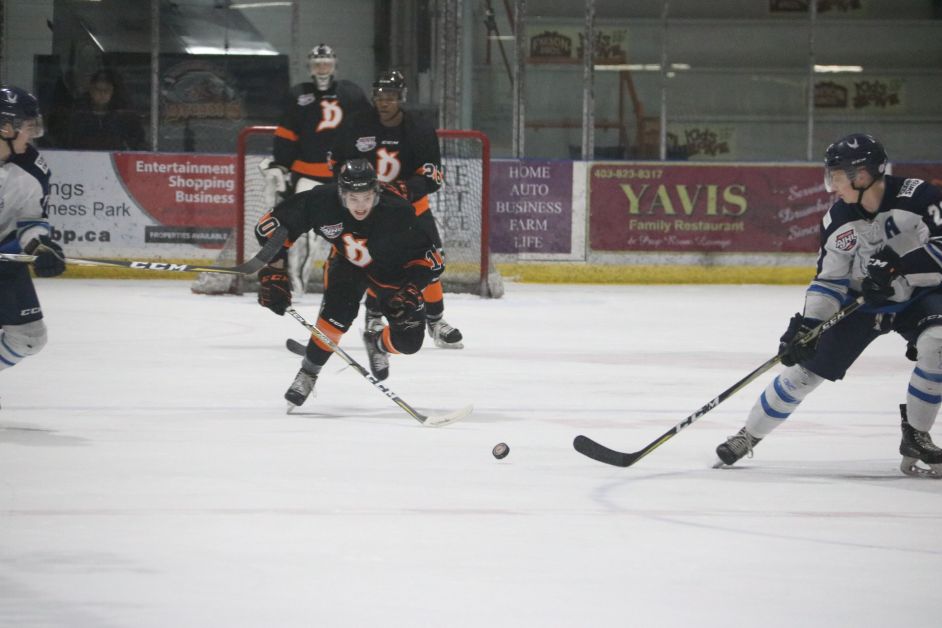 The Dragons' season is on the line tonight, Wednesday, March 13, as they square off in one of the most exciting first-round series hockey fans could hope for.
Game five for the Drumheller Dragons- Canmore Eagles series continues tonight at the Drumheller Memorial Arena. So far all four games have been nail biters going the distance, and beyond.
The series began Thursday, March 7 at Drumheller Memorial Arena. Markus Boguslavsky opened the scoring in the first period. Canmore tied it in the third forcing overtime, and 56 seconds into extra time the Eagles were victorious.
In game 2 the next night, the Dragons were up 2-1 in the second period thanks to two goals from Roc Truman. Canmore tied it up in the third period to go to extra time again. Brady Risk scored 7:53 minutes into overtime to tie the series.
On Sunday the series went to Canmore for game 3. The Dragons took a four-goal lead thanks to Troy Dudley, Boguslavsky, Roc Truman and Hassan Aki. The Eagle then went on a tear and tallied off four straight to again go into overtime. Just 1:25 into the extra period Eric Martin scored his seventh goal as a Dragon for the win.
Monday night the series continued in Canmore. The Eagles took a 1-0 lead and Scout Truman tied is up with seven minutes left in the game. The Eagles tied the series 3:07 into overtime.
This sets the stage for Wednesday night. the Dragons and the Eagle take the ice at 7 p.m. at Drumheller Memorial Arena.