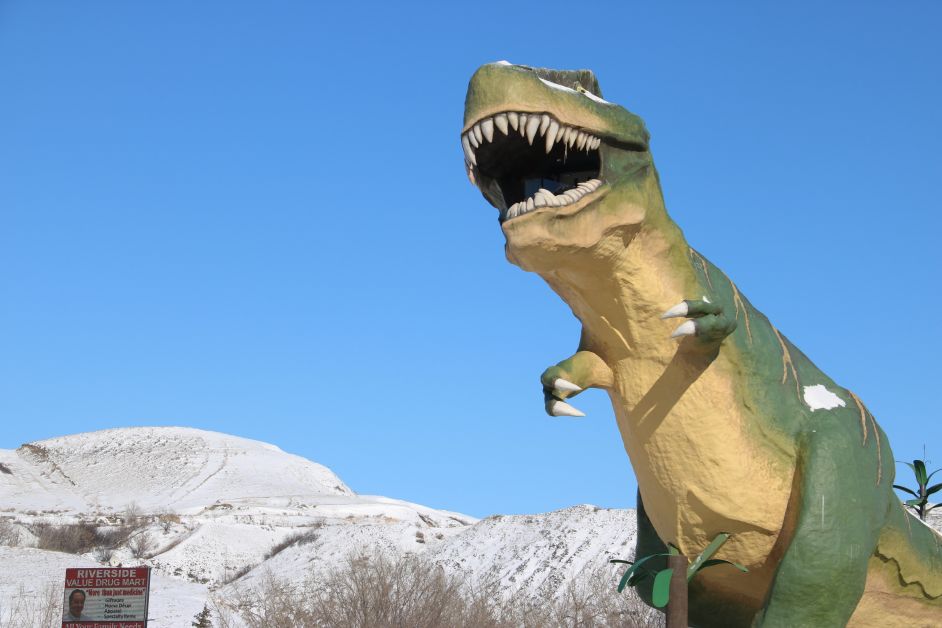 Future plans for the World's Largest Dinosaur will be discussed at the Drumheller and District Chamber of Commerce general meeting on March 27.
An ad in last week's Drumheller Mail invited chamber members and non-members to share their ideas at a roundtable discussion.
"Just like the T-rex that roamed the earth millions of years ago, which appeared to have a life expectancy of around 30 years, so appears our beloved WLD," the ad said, asking for ideas on "what would the 'new' experience be," "where would it be located?" and "who would the partners in this project be?"
The dinosaur officially opened in October 2000 for a total cost of $1,065,000 and welcomed its 2 millionth visitor last summer. The chamber said over the last 18 years, maintenance projects, including three significant repairs, have been made at a total cost of $373,546. In 2015 a structural assessment of the interior structure and exterior envelope was initiated after water seepage was observed in the interior and exterior, however the assessment said "the main steel structure of the dinosaur is in good condition and its integrity has not been compromised."
"As a result of the structural assessment and the age of the WLD, the DDCC board of directors has spent much time and energy in the last three years discussing the future of the dinosaur," said chamber vice president Jeff Hall in a press release. "In the years to come, the Board has some important decisions to make. These decisions are not taken lightly and will be made with the best interests of the DDCC and its members in mind."
Mayor Heather Colberg says because of the age of the dinosaur, at over 18 years old, the chamber is trying to plan for the dinosaur's future, seeing if people are interested in a new dinosaur, a new location, or in favour of continued maintenance of the existing structure.
"We're the Dinosaur Capital of the World and if anything we need a plan as to what the future looks like. Every chamber member should have a voice at this meeting, I think it's crucial," she said.
"I haven't in any way, shape, or form got a sense they (the chamber) is going to try and dump it. They just want to see what could it be, what's the potential, and what people want to be involved?"
The chamber board declined to comment until after they issue a press release.
The annual general meeting is scheduled for 7:00 pm at the Badlands Community Facility on Wednesday, March 27. RSVPs are needed by Friday, March 22 online at the chamber website or by calling 403-823-8100. Tickets are $25 for non-members and $20 for members.