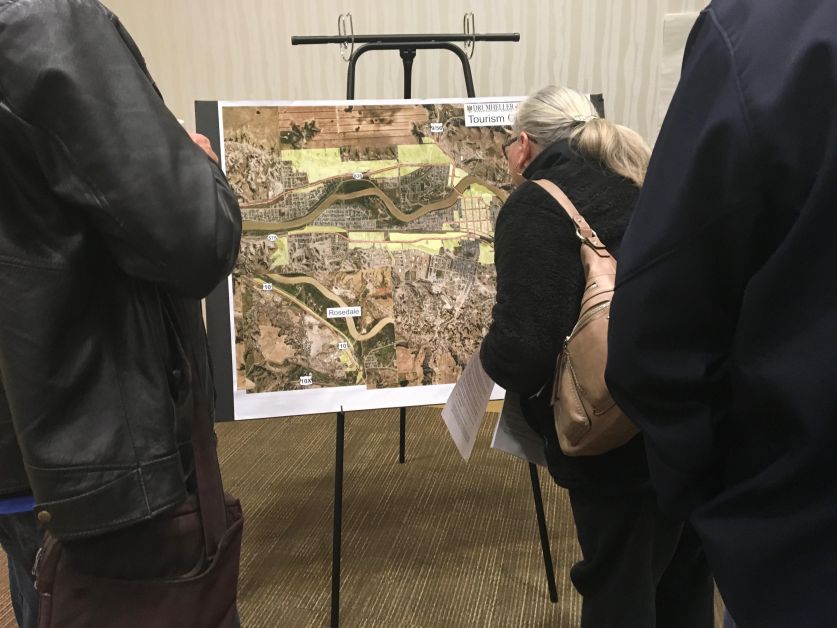 There was a strong turnout last Thursday night, February 27 for an open house for discussion of two proposed Drumheller bylaws.
Mayor Heather Colberg said approximately 50 people came out to learn more about the Tourism Corridor bylaw and a new bylaw for tax incentives for non-residential vacant buildings.
"I never had any negativity. The comment I got was we are making the effort to clean it up," said Colberg. "The only question I got is how are you going to go about doing this all at once? The reality is, the goal is to do this over time and have people understand we are doing it for the right reasons.
She adds the tourism corridor bylaw was assisted in being drafted by a committee with members of the valley wanting to be a part of it.
The goal of the Tourism Corridor Bylaw is to make a concerted effort to keep the major tourism corridor in the valley looking pristine. This will be generally for businesses along Highway 9 to the Royal Tyrrell Museum and east to East Coulee. This will give the town more power to make sure properties are being maintained in a timely fashion. Colberg says the goal is not to be punitive.
"The intent is to work with the people. There is maybe even some volunteers that want to help with some of this work. It is not a case of the law being passed one day and then demands being made the next day. But some of these are ongoing and some of them are safety issues as well," she said. "It is not about being hard, it's about making things nicer and safer."
The new tax incentive bylaw was also discussed. This bylaw is for existing non-vacant residential buildings. If a business is vacant for at least a year and the owner is able to attract business for a minimum of one year, they can apply for tax cancellation for the municipal portion of their assessment, up to $5,000, and be applied the following year.
"I had about four or five people come up with the bylaw in their hand saying 'this is really going to help us,'" she said.
Both bylaws had first reading, and they are scheduled for second reading at the March 18 council meeting.