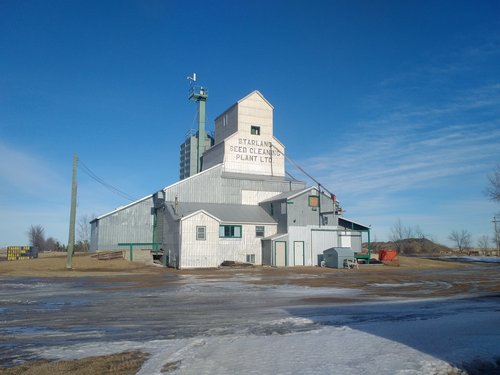 Shareholders of the Starland Seed Cleaning Plant are looking at its best option to move forward into the future.
The Mail reported in December of 2017 that membership of the Starland Seed Cleaning Plant began to explore what the future might hold for the aging seed cleaning plant in Delia. Secretary Al Hampton tells the Mail, its membership is looking at the possibility of building.
"The board, on the advice of shareholders, has contracted a company, LMC, and tasked them to create a project design for us based on the need we supply them, what we feel is going to be necessary to make this plant functional for our shareholders," said Hampton.
The plant was built in the 1960s and was designed to clean smaller volumes than what are typically supplied today with growing farming operations.
"The project is kind of twofold; one is to provide a cleaning service, the second is a potential value-added play. We are trying to set this facility up to move containers in seacan or intermodal," he said. "A big chunk of this business model will be gearing it towards dealing with the line companies so we can actually source pulses for instance, and process them through the plant to be shipped out via containers and create a bit of value added for our producers and create cash flow for our plant."
Right now the plans are in their infancy and will still need shareholder approval before they go forward.
"Our ultimate goal is to have an actual number (cost) and a couple of different models of plants that we can present to our shareholder crowd and say 'this is what we are looking at to build a facility, these are the things we have in place, this is what we need to get in place and this is the type of money we have to raise,"' he said. "With this type of project there is no government money available, primarily it is going to have to be raised by the community and the shareholders. They will have to buy into the project."
He hopes they will get the ball rolling by this spring.
"I think we will have something we can take to our shareholders' meeting before seeding. That would be the goal," said Hampton.
He says the project could be a boon for the community.
"The potential for the project is big. If we can get something like this to go and if it can do what we think it can do, all of a sudden we are creating jobs, something that is few and far between in this world. That would be our goal, create a project that creates some employment and a little bit of stability in the area and adds value for the farmer."