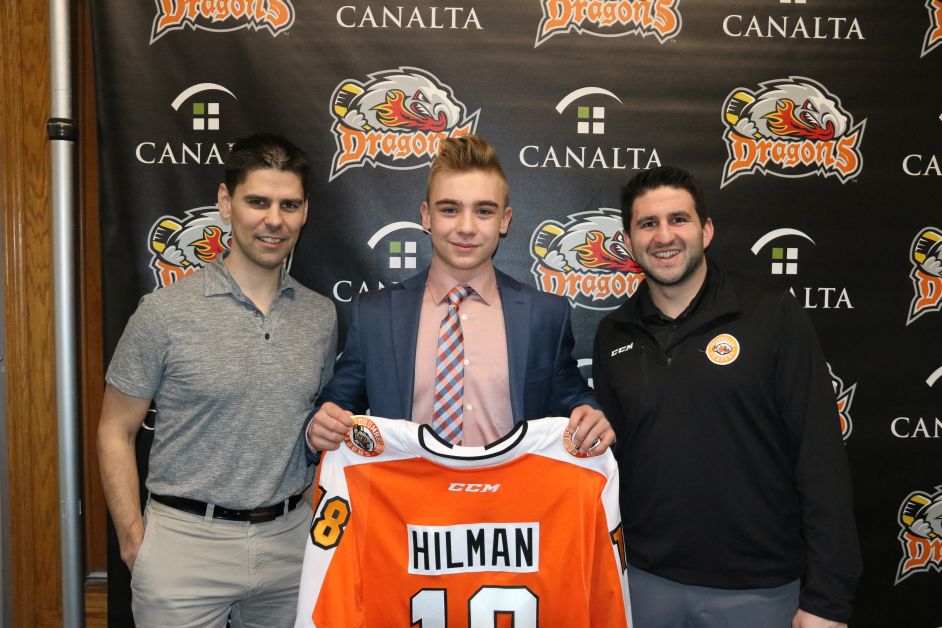 The Dragons have added another player ready for the 2019-2020 season.
On Wednesday, January 30, Myles Hilman signed a letter of intent to play for the Dragons next season. Hilman, born in 2003, currently plays with Northern Alberta Elite 15's and so far this season has 18 goals and 25 assists in just 26 games.
Hillman says he has a good feeling about the Dragons. "I like the staff here and the rural feel and being close to home was really important for us,' said Hilman who is from the Sylvan Lake area. "There are a lot of skilled hockey players here on the hockey side, but obviously from the personnel side I felt really comfortable around them and felt comfortable talking to them, and that was something I didn't have with a couple of other teams that I talked to."
He feels he brings tenacity to the team. "I bring a lot of grit. I have some puck skills to finish too, but mostly I'm a work out of the corners guy and set up my teammates when I can," said Hilman.
Coach Kevin Hasselberg recognizes Hilman as a strong prospect.
"His values are at the top of the list. As we got to get to know each other, both his family and the Dragons organization, the values line up. What they believe in is what we believe in," said Hasselberg. "When you see him play, he is a tremendous young player and a tremendous athlete, it was fit for both sides."
"He's tenacious, fearless and tremendously skilled and he is very confident in what he does because he puts in the work.
Hilman's goal, playing for the Dragons, is to get an NCAA Scholarship.