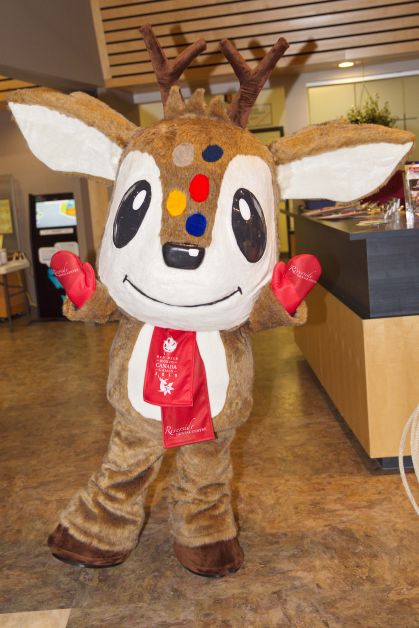 Waskasoo, the 2019 Canada Winter Games Mascot will be at the BCF this Friday, January 11 as part of the Canada Games Torch Celebration at 4:30 p.m.
Waskasoo's name comes from the Cree name for what is now known as the Red Deer River. The saying "Waskasoo Seepee" translates to "Elk River" and this was the name originally given to the river that flows through our community, by the Cree people. Settlers of the area translated Waskasoo Seepee to Red Deer River after mistaking elk for European red deer. Red Deer was then named after the river.
He has 13 blue, red, grey and yellow spots on his head and body that shows his passion for Canada. At least one of his spot colours can be found in every provincial or territorial flag. His antlers form a W for Waskasoo. The spots were a gift from Mother Nature because of Waskasoo's kindness towards others - he is a true Canadian. Each spot represents one of the 10 provinces and three territories.
He will be visiting communities around Alberta to share his excitement with people and share the news about the Games! If you see Waskasoo, give him a wave and he will be happy to say hello. During Games time, Waskasoo will be travelling to the different venues to cheer on the athletes.