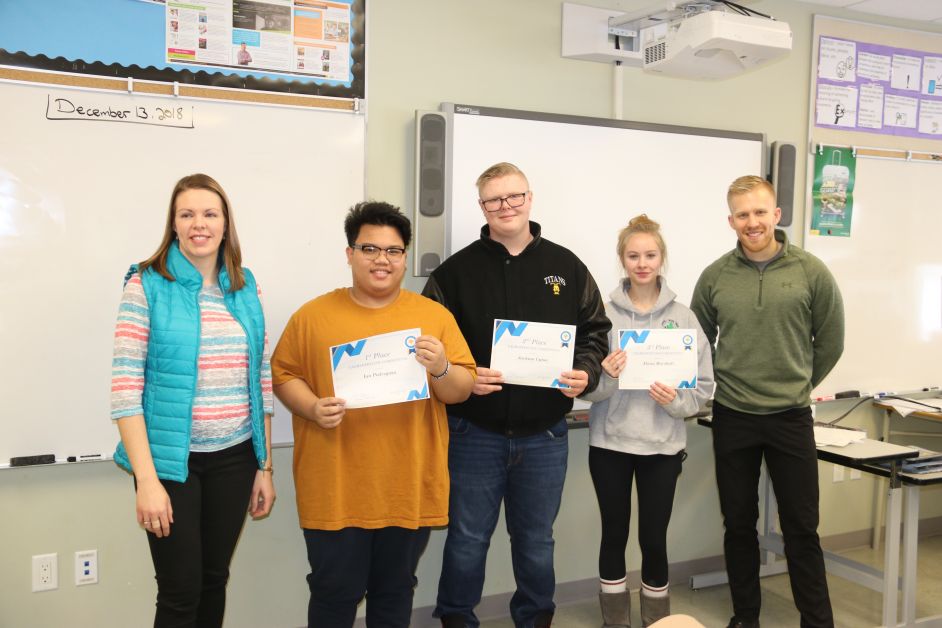 Grade 11 students at St. Anthony's School had the opportunity to learn more about job hunting through the You're Hired! interview contest.
The program has been going for four years and it is a partnership among the school, the Drumheller and District Chamber of Commerce and local businesses.
The program took place in Mr. Easter's Grade 11 Career and Life Management (CALM ) class. The students were tasked with going through a complete job hunting exercise. They each crafted a cover letter and résumé, and each applied to the participating business.
Partners from the Chamber, Chinook Credit Union, Canadian Tire, Canalta, and the Drumheller Institution then came to the class and conducted interviews with the students. Each student was scored on their performance and the top three went into a final interview.
Executive director of the Drumheller and District Chamber of Commerce, Heather Bitz, says the program began in 2015 and typically takes place in the fall semester. Not only is it a great experience for the pupils, but there have been times the students have left such an impression, it has lead to employment.
This year's winner was Ian Pedregosa, he says it was a valuable experience and helped him with his interview skills. It helped him learn what to say and areas he could improve.