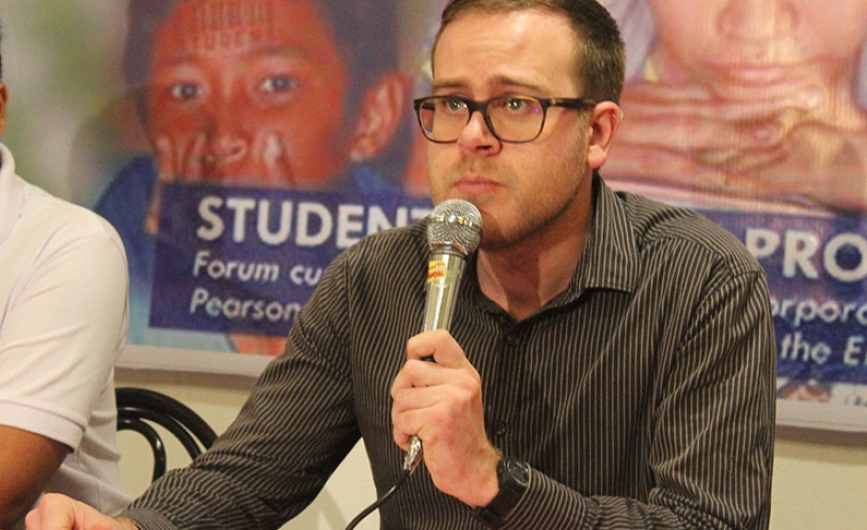 A former Morrin School student has been awarded an international prize for his research on the privatizing of education exposing issues in a model of education touting private low-cost schools.
It was announced that Curtis Reip is the recipient of the Albert Shanker Award. It will be presented at the Education International World Congress in Thailand this coming summer.
"Often times you do research and with this kind of work, you are not too sure to what extent it is going to have any impact in the world. I have been quite fortunate the research I have done has been looked at by global actors, colleagues, and people around the world that says this is meaningful work. It has been very validating and quite an affirmation for myself to continue to do this kind of work," Reip tells the Mail.
Reip graduated from Morrin School in 2004, and he is working on his Ph.D. in Educational Policy Studies at the University of Alberta. His specialization is in social justice and international studies in education. Part of his research has taken him to Ghana, Uganda, and the Philippines. One of his primary focuses has been on a movement towards low-cost private schools. These are often billed as international private schools, and while they advertise as providing quality education, often the costs for access to these schools is still very high especially in the developing world, and often the education outcomes are not as promised.
"In some of these countries, their enrolment rates are not as high as they are here, so a lot of students aren't in school. So a part of their (these schools) business models is to come in and provide further access for students," he explains. "Certainly the issue of accessibility is one that I touch on in my research, but the key distinction to make when we are discussing accessibility in relation to these companies is when you put a price tag on access to them that is going to be a barrier. A lot of these low-cost private schools, although they are advertised to governments and local communities as providing a service to the most marginalized… in communities that are lacking those resources. But in reality, when you attach a fee to it, you are not going to reach the poorest of the poor, the most marginalized. What we see is they are creating a marketing for schooling or a differentiated market."
Along with accessibility at issue is the quality of the education.
"The biggest takeaway from the research that I have done on these schools is in terms of quality. Teachers, in terms of financing, are the most capital-intensive aspect of any education system. So the ability to employ professionally trained and qualified teachers take up the highest degree of finances in any system. What is happening in the schools I have been doing research on is they are not hiring qualified or professionally trained teachers, or at least the majority of them are not. This is a cost-saving technique for the schools," he said. "By hiring people that don't have an education or teaching background or aren't accredited to teach, they then pay them severely low wages as a way to cut operating costs and increase profit margins."
"If we looked at our own context whether we are in Drumheller or Calgary," I think people would be quite outraged to hear school districts were hiring unqualified teachers to cut costs, so why would we expect this would be something legitimate in these other countries?
According to a press release from International Education, Reip's research investigated Bridge International Academies, a for-profit chains in Uganda. He provided evidence that helped to convince the Ugandan government to act and close the chain.
According to the organizations that nominated him, CTF (Canada) and UNATU (Uganda), "over the last half a dozen years Riep has made a contribution to quality publicly-funded public education throughout the world that most could not hope to make in a lifetime. His personal contribution to ensuring all children have access to quality, inclusive, public education regardless of their socio-economic status, gender, or the country they call home is outstanding."
Reip tells the Mail his experience growing up in Morrin and attending that school helped to shape his outlook on quality education.
"Growing up in Morrin, I went to the same school from kindergarten to grade 12. It's an old country school out on the prairies and some of the teachers that taught my older siblings also taught me, and some of those teachers even taught my mother. In Morrin, the school was really a community hub, a gathering place, a place to learn about citizenship and community and I think this had a big impact on my understanding of what school means in society. That is part of my motivation for the research I am doing now," he said.
Reip is completing his Ph.D. in the next year and then he hopes to continue to do research.
"Whether it is to remain in academia, whether it is connected to a university or college or working at a research center, or government as well, Those are things I am moving towards in the future," he said.