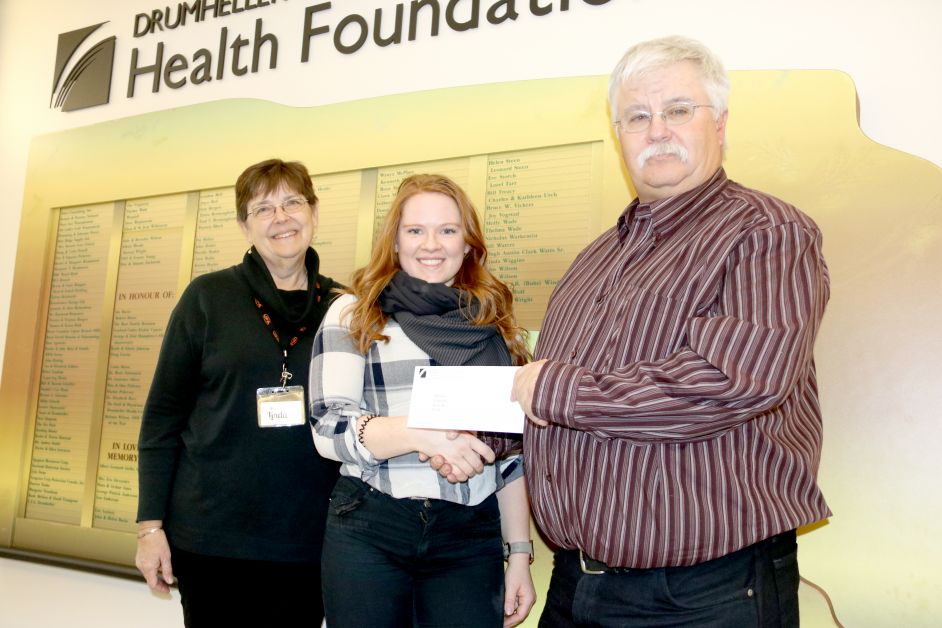 An area nursing student received the Gaye Ross Memorial Scholarship this weekend, and she plans to return to the valley to work in health care after she earns her degree.
Shae Lane, who grew up in Strathmore but lives with family at a Hussar farm in the summer, received the $1,500 bursary at the Drumheller Health Centre on Saturday, November 3. She currently studies at the University of Calgary in the faculty of nursing.
"I'm loving the independence and I'm looking forward to being a registered nurse. I worked in Drumheller as an undergrad and I'm hoping to work in the emergency room," Lane said. "My experience working in a rural hospital this summer had me fall in love with it."
Drumheller Health Foundation chair Doug Stanger says Lane came to the top of the selection process "quite easily."
"She did write a good essay and I liked her rural involvement and we were impressed with her interest to come back and work in the area. It fits our goals as an organization to support our hospital and community," Stanger said.
The scholarship is presented annually in memory of Gaye Ross, a nurse at the former Drumheller Hospital who, among other things, introduced the Marigold Library System to the public library, served as a city alderman for two terms, and who was thoroughly dedicated to improving her community.
The scholarship is presented to health care students and applicants are chosen in September annually.