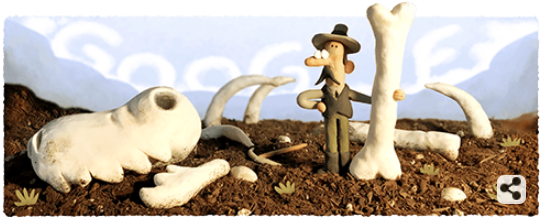 Google marked the 160th anniversary of the birth of geologist and cartographer Joseph Tyrrell with his own Google art today.
Tyrrell's birthday on November 1 was commemorated by Google with their homepage doodle, which changes daily to mark special occasions or significant individuals.
Joseph Tyrrell, which the Royal Tyrrell Museum is named in honour of, was most certainly a renaissance man and one of the earlier surveyors to start the 'Great Dinosaur Rush' of 1910-1917. Tyrrell lead numerous expeditions throughout Canada as a member of the Geological Survey of Canada. He travelled into the far north, making contact with indigenous inhabitants of Canada's arctic, and led expeditions in search of coal.
After discovering a coal seam in Fernie, BC, he led an expedition into Alberta, eventually travelling by canoe down the Red Deer River, where his team discovered extensive coal deposits in the Red Deer River valley.
His search for coal as a miner led him to dig up an enormous, 70-million year old dinosaur skull and bones in the badlands in 1884, near where the Royal Tyrrell Museum is now.
Tyrrell's wife Mary Edith was the founder and first president of the Women's Association of the Mining Industry of Canada. They had three children.
In 1898, Tyrrell moved to Dawson City where he became a mining consultant. He returned to his home province of Ontario in 1906 where he continued consulting work until 1924.
Outside of the museum, there are two schools named after him in Ontario and the Northwest Territories.