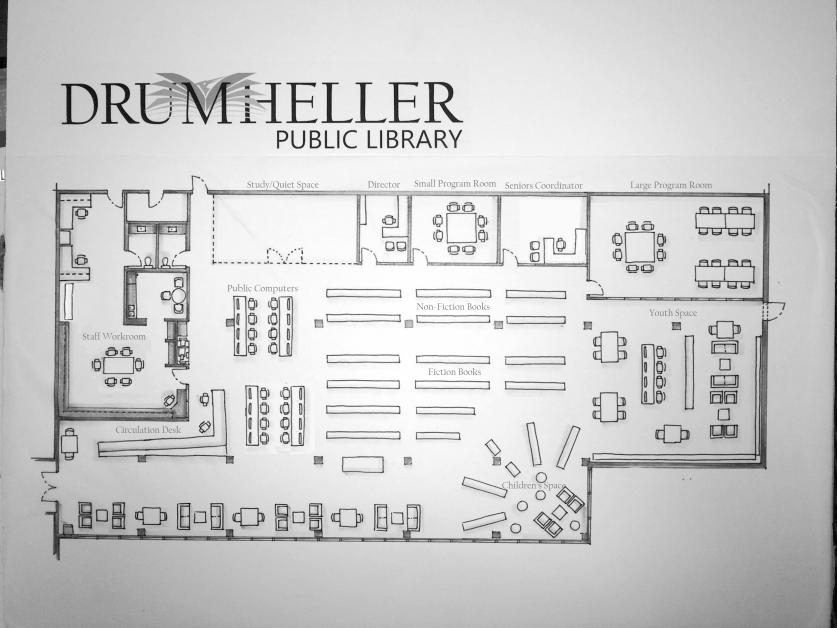 The Drumheller Public Library will be doing some rearranging in the coming year in hopes of making the library a more teen-friendly space, as well as hoping to position itself as more of a hub for the community.
The library recently released their plan of service for 2019 to 2023, and identified a number of objectives including rearranging the space so youth have a place for socializing and studying, using and promoting a central Drumheller events calendar, increased opportunities for adults to socialize, and having the library become involved with school and other libraries in the valley.
Library services director Emily Hollingshead says the library will be rearranged by June next year, when the space towards the back of the library will be turned into a dedicated youth space, instead of being next to the computers as it is now. They also will be moving a staff office into their existing staff area, allowing for another program room to host events and programs.
"We have found that a lot of people are happy with the space as it is, but we do have some people coming to the library for quiet space to concentrate on things which require focus. We would like to move the teen area to the back so they can freely make noise with their friends, but people who need quiet space can have their own area," she says.
The library is embracing a new branding tagline of "Drumheller Connected," and aims to increase its role as a community hub for people to socialize, attend workshops or events, and to stay connected with goings-on in the community through an events calendar. The library board and staff also plan to work with school libraries in the community to pursue grant funding to enhance the schools' collections and technology. The library also plans to fund and stock 'little free library' boxes in Drumheller and outlying communities, similar to what other municipalities and neighbourhoods have done.
The library board has also been determining what new technologies can be brought into the space, including media recording booths and possibly a 3D printer.
"As we have appropriate space available we'll be looking into what people are interested in here and what sort of things they're making available. What's popular in 2018 may not necessarily be what people want in 2020. We have plans to make more things available to our community, and we're really excited about that," Hollingshead says.
But while libraries elsewhere have been pushing their focus on technology and devices for patrons to use, Hollingshead says traditional print books are not going anywhere.
"What the research is showing is that people still want print books and that is an important part of what people are looking for when they come to a library. Because the library is connected through Marigold and the TRACK system to 180 other libraries, it's not necessary to try and have all the books available right here in town. We have plans to condense how we store them – it's more about 'let's make the best use of space,' she says.
The library and board will be looking for patron feedback on what users want in the library in their annual survey.