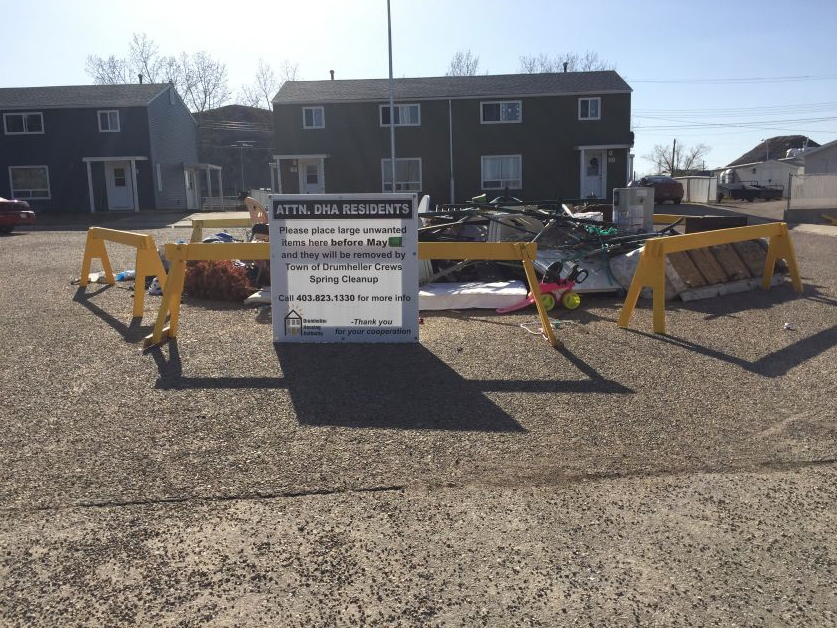 The annual spring cleanup offered free of charge by the town may not be free in the future, council heard at their September 4 meeting.
The Drumheller and District Solid Waste Management Association's executive director Tammi Nygaard told council the association will review in the future whether to provide the service, which offers the collection of waste from properties every spring, at no charge.
"The association is reviewing all of the spring clean ups and are not 100 per cent sure everything will remain free in the coming years," she said.
There is a high cost to the service according to a report presented to council. The 2018 spring clean up required a total of 832 man hours, including overtime pay, and equipment costs tally up $906 per hour over nine eight hour days. Waste bins also cost nearly $19,000, with an additional $1,773 spent of advertising the service.
Deputy Mayor Jay Garbutt said the service has clearly beautified the town over the year and other councillors agreed in retaining the free service.
"I sure hope the association realizes how valuable it is to the community. As successful as it has been i think we rethink the cost… I hope the cost won't negate some of that benefit," said councillor Lisa Hansen-Zacharuk.
"I hear nothing but great comments about the spring clean up," said councillor Tom Zariski. "Lots and lots of people say this community looks better than it did when we started spring clean ups."
Nygaard said an alternative method used in other communities is to have bins stationed in the community with a town employee stationed to ensure proper sorting of materials.
"(That way) you're cutting way down on your staff time if you just went to a bin system," she said.
The amount of overall waste collected this year was up over 2017 by about 20 metric tonnes, an 8.2 per cent increase, with a total of 260 metric tonnes collected.
Issues experienced by town staff was a lack of sorting of materials by residents which caused town staff extra labour, residents and town employees not adhering to the maximum half-tonne truck rule, residents including large amounts of demolition waste in their piles, and individuals refusing to pay the $15 freon disposal charge. Nygaard said town employees would often collect material regardless these issues because they did not want to return to the property to do so later, with Deputy Mayor Garbutt suggesting the staff can be more strict with these rules.