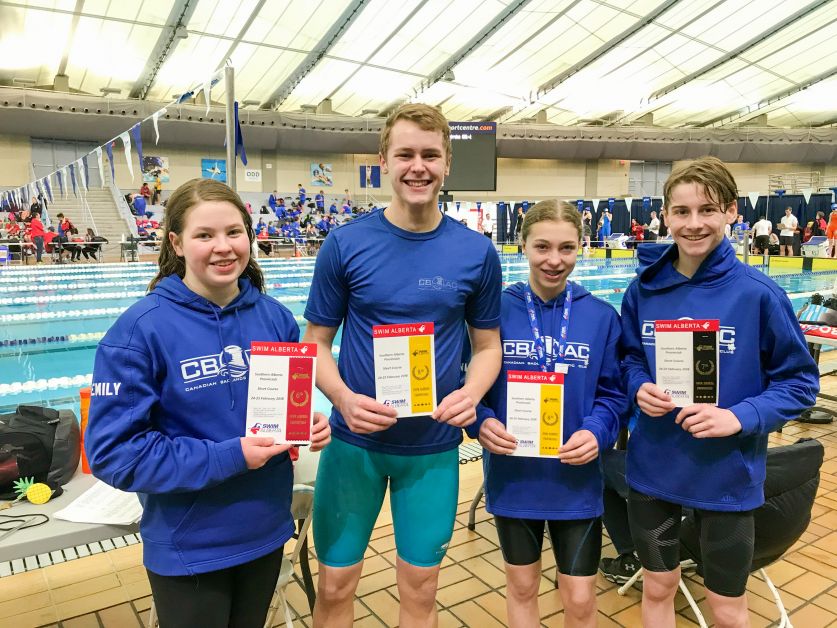 Swim Alberta held their short course Southern Alberta Provincials in Calgary this past weekend.
Nathan Dobell, Ava Harrington, Shane Issler, Annika Lassen. Emily Martin & Keely Martin all had qualifying times to represent CBAC at this Meet.
"We had a good showing," said coach Sheila Martin. "It's always exciting to have them qualify for provincials from our small club so I was happy with the results."
Dobell had three top finishes and four personal best times.
Martin came out in 6th place for the 50 Metre Backstroke and broke four of her personal best times.
Issler claimed gold in 100 metre Butterfly, silver in 50 metre Butterfly and 8th in the 50 meter Backstroke.
Harrington was the star of the show by capturing four silver medals in 50, 100 & 200 metre Freestyle and 100 meter Butterfly. Harrington, who just turned 12 last week, had five new best times, one of which was a 13 year old Western Canadian qualifying time. She will be attending the Swim Alberta Championships Meet in Edmonton in March.
"They just need to keep reaching for those provincial qualifying times, it's sort of their goal but most importantly we just want each swimmer to improve their personal times," said Martin. "So even though they are competing against one another, they are always trying to improve their own times," said Martin.
The club attended an Invitational meet this past weekend in Lethbridge where they competed in their first long course meet this season.
Friday, March 16 to Sunday, March 18 is the Long Course Provincials in Edmonton for both southern and northern Alberta.
The 10 month swimming season will come to a close in June with finalists further competing into the middle of July.