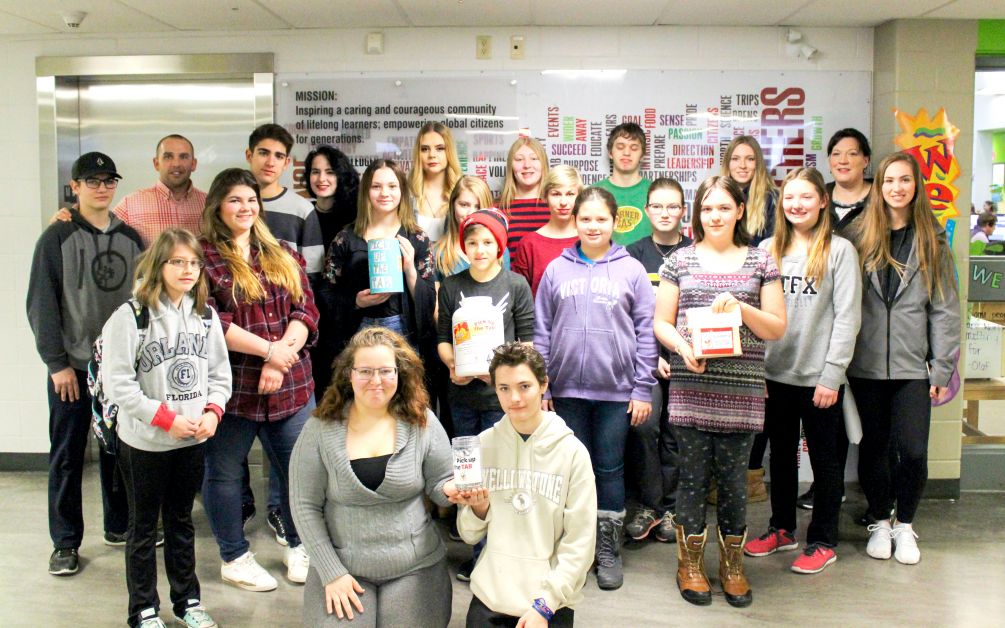 DVSS Student council has created a challenge surrounding pop can tabs. The initiative involves the main schools, the community of Drumheller, and the penitentiary. Student council wishes to see who can collect the most pop tabs by March 26. The challenge has already began as of February 5. "The more the merrier, we are just trying to collect as many as we can," said student council teacher Wendy Olson. Folks can take part in the challenge by dropping off their collected tabs at any business that is participating. A container with specific labeling will be used for this collection. If a business wishes to get a container, contact the DVSS office at 1-403-823-5171. "We are hoping for more community members to reach out and pick up a container so they can collect as well," said Olson.
The DVSS Grade 7 class is leading the junior and senior high combined program. Grade 7 student Grayden Ewing even created a video to explain the challenge which can be accessed on YouTube. "Cassia Teske has collected them for a long time and a gentleman from the penitentiary, Steve Bryant, had collected about 15 pounds of them and wanted to give them to her so we thought we would take the initiative and Cassia wanted to do something with the pop can tabs," said Olson. The tabs will then be counted, weighed and donated to the Ronald McDonald House in Edmonton as the houses in Calgary and Red Deer no longer use the program. About 1,128 pop can tabs are equal to one pound. One pound is typically worth between $0.40 and $0.50. "They melt the metal down
because it's a high grade aluminum and they give the money to the Ronald McDonald House which houses families that have sick children," explained Olson. Each classroom is on board with their own container for inner class competition. "I think this is a really cool challenge and I'm really excited for the kids because they are really excited about doing it and I'm hoping that it will have success and we will collect a lot of pop can tabs to fill the back of a truck." A wrap-up event will be held on Saturday, March 24 to support the Ronald McDonald House in Calgary. March 26 is the final date of collection.