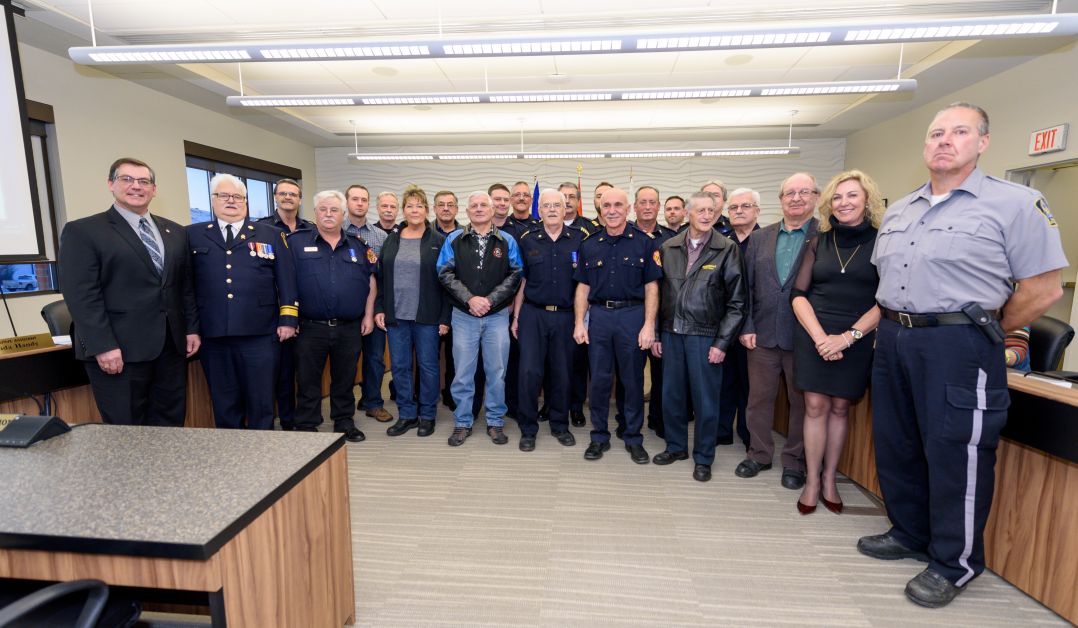 Firefighters from the Drumheller, Rosedale and East Coulee fire halls were recognized for their varying years of service at the Drumheller town council meeting on Monday, January 22.
The presentation came in to effect after the regular Alberta Fire Chiefs Association (AFCA) conference and trade show as they did not have enough time to present the awards.
MP Kevin Sorenson, MLA Rick Strankman, Alberta Fire Commissioner Kevan Jess, and Drumheller Mayor Heather Colberg presented the federal and provincial awards, shaking hands with each retired and current volunteer.
The federal, provincial, and territorial jurisdictions independently recommend eligible and deserving members of the fire service to the Chancellery.
Federal awards recognize 20 years of service and upwards whereas the provincial awards begin at 12 years of service.
Drumheller Fire Chief Bruce Wade was pleased with how the evening turned out.
"I think that myself and all the firefighters are excited," said Wade. "It was a nice recognition for their time training, fighting fires, and responding to their emergency calls and it's nice to see the guys get some recognition."
The Provincial medal's design consists of crossed axes, a hydrant and a cross, and a specific symbol known internationally in the fire prevention community.
The normal background is of a maple leaf. The red ribbon represents fire and the gold represents common exemplary service medals, representing the upstanding service these volunteers continually do.