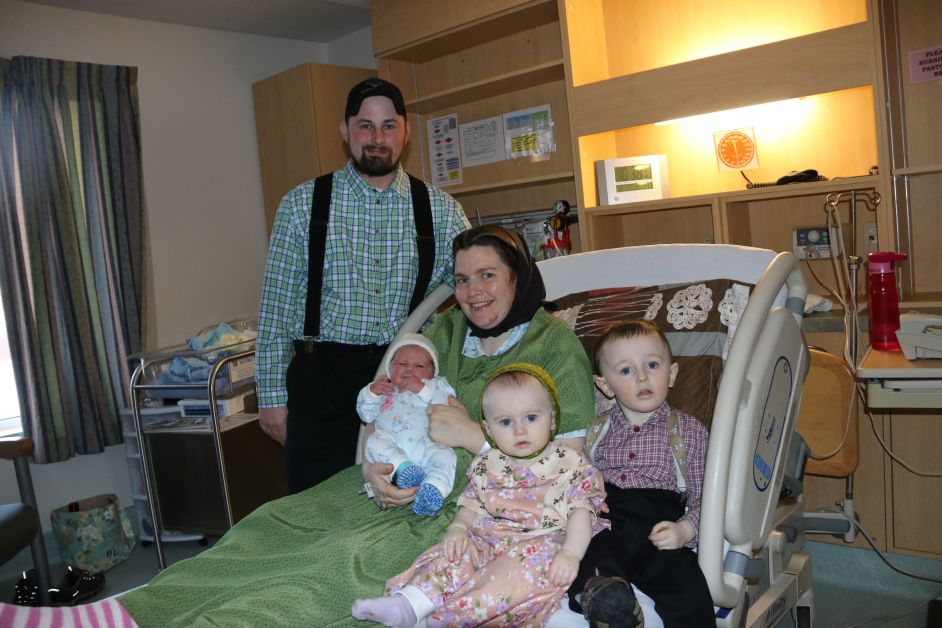 Congratulations to Benjamin and Dorothy Hofer, the parents of the 2018 New Year's baby.
Nathaniel Jacob Hofer came in a hurry and arrived at the Drumheller Health Centre at 9:17 p.m. January 1. He weighed in at seven pounds, 6.4 ounces, and was delivered by Dr. Maseka.
He arrived within a day of his due date and is the younger brother of Jethro and Tabea, who are excited to have a baby brother. He is also the first New Year's Baby from the Hillview Colony near Rosebud.
Little does Nathaniel and his parents know, but they are about to be showered with gifts from generous businesses and individuals in Drumheller and area.
Prizes for The Drumheller Mail's New Year's baby contest were provided by the Napier Theatre, The Inn & Spa at Heartwood, Drumheller Co-op, Made in the Shade, Cervus Equipment, O'Sheas Family Restaurant, Subway, Kreations Photography, MH Enterprises Employment Services, Fountain Tire, Pizza Hut, Sleepwell Baby-Nichole Clayholt, Sun Life Financial- Garbutt Financial Services, Shoppers Place, Century 21 PowerRealty.ca, Yavis Family Restaurant, Wade's Jewellery, HI-Way 9 Express, Vietnamese Noodle House, Jerry's Liquor Store, Sunrise Auto Sales, Riverside Packers, Extra Foods, Centre Street Insurance, Kneehill Soil Services Ltd., SJ Fashions, Boston Pizza, DeMott Floors, Top-Waste/ Peaches Portables, Pro-Active Building Maintenance, Valley Truck and Car Wash, Sublime Food and Wine, Vintage Tap House, Drumheller Public Library, Tug's Pop Culture and Sports, Tim Hortons, Drumheller McDonald's, The Paint Shop, Allied Distributors, Badlands Community Facility and Drumheller Aquaplex,H & H Optical and Hearing Centre, Riverside Value Drug mart, A&W Restaurant, Image Crafter Signs, Oasis Car Wash, Over the Rainbow, Sandstone Lanes, Bevan Scott Salon, Freson Bros, Reality Bytes, The Brick, Dry Canyon Collectables and Shoppers Drug Mart.