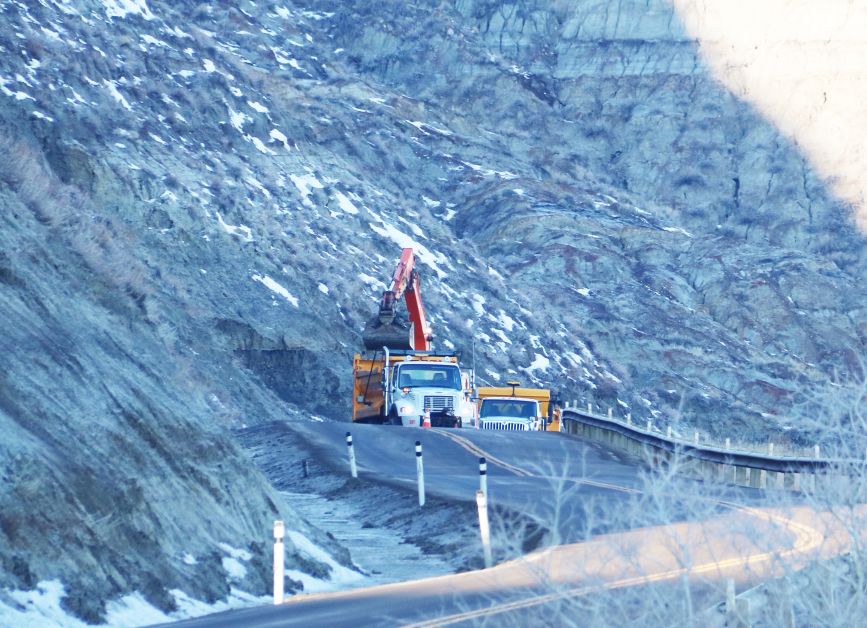 Alberta Transportation is bringing in experts to have a look at the sloughing hill that continues to rain debris onto Highway 837.
Last week motorists were alerted to more slides on the stretch of highway, west of Drumheller that makes up part of the Dinosaur Trail loop. There were previous occurrences on this stretch of road, most notably in the spring.
Craig Siewert, operations manager of Alberta Transportation says in the last year there were about three significant slides in that area, including the one that occurred last week. The highway was blocked as the maintenance contractor, Carillion, was out cleaning up the slide.
"The others were in June though, and it is more typical to have those sort of events when we have heavy rainfall events, where the water destabilizes the hill and we get more of a mudslide," said Siewert.
He says this is not as typical in the winter.
"We were wondering that, because you had the snow and then you had the warming temperatures, and maybe water infiltrated into the hill, and we are wondering if that is what is driving this December slide," he said.
"It is odd to have the hill move in December so actually we have our geotechnical consultant coming out to take a look at the hill to see if anything has changed since the last time they took a look."
He says the Alberta Government and its specialists are working with the maintenance contractor and the RCMP in taking care of this stretch of highway.
"First and foremost is safety, so we want to keep the road in safe condition," he said.
At this point, they are awaiting more information on this challenging road to work on a solution.
"We have the river meandering on the one side… so the reality is the river cut that whole valley and you have that pinch point where you have that steep cliff on the one side and the river on the other," said Siewert.
He said when they looked at the hill earlier in the year, it appeared to be a low-risk situation, so the strategy we employed was to clean the road and keep the ditch as clean as possible and keep removing the material.
"In December we are concerned a little the conditions may have changed so they are looking at the long-term plan. Is this still the right approach? Or should we look at something else more proactive."
He says about 320 vehicles travel this stretch of road daily.