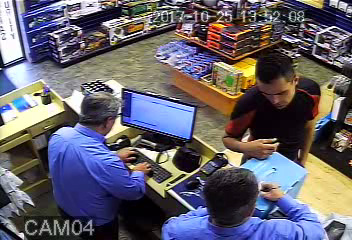 On October 25, 2017, a stolen credit card was used at the EnGaurd PC in Hanna. There were two male and one female suspects involved in this incident. The suspects bought $1,466.10 in merchandise.
The first suspect is described as male, short dark hair, medium complexion, wearing a black and red shirt with striped track pants.
The second suspect is described as male, brown hair that is short on the sides and longer on the top, fair complexion, wearing a long winter coat with fur around the hood and sweat pants.
The third suspect is described as female, longer dark hair pulled up at the back, medium complexion, wearing a track jacket with white stripes down the arms and multi-coloured pants.
All three suspects left the business in a white car with an unknown plate on it.
It is good practice for vendors to ask for photo identification if the customer isn't using the chip / PIN option on their card for large transactions or transactions where the vendor is suspicious.
Information about this crime can be reported to the Hanna RCMP at (403)854-3393. Anonymous tips can also be provided through Crime Stoppers.