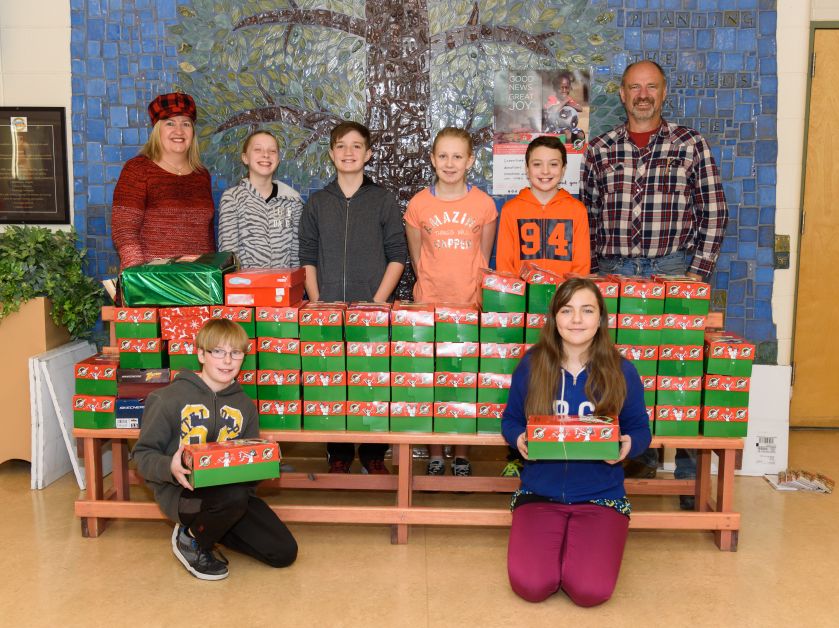 Within five days, November 13 to 17, Greentree school raised $370 and collected 64 shoeboxes school-wide for the well-known Christmas charity Operation Christmas Child.
Operation Christmas Child is a yearly division of the Samaritan's Purse international relief service.
Thousands of volunteers collect small toys, school supplies, and sometimes hygienic products for children in need in third world countries in time for the Christmas season.
Theresa and Kevin Reimer, of Linden based company Done Deal Delivery, picked up the parcels for free and delivered them to the Samaritan's Purse location in Calgary.
Pictured above: Grade Six students stand together with the truck delivery drivers and owners Kevin and Teresa Reimer to show off their large haul of shoeboxes. Front Row (l-r) Patrick Law, Jaime Lepine. Back Row (l-r): Teresa Reimer, Olivia Anderson, Gavan Cassidy, Naarah Christian, Grady McGougan, Kevin Reimer. mailphoto by Terri Huxley