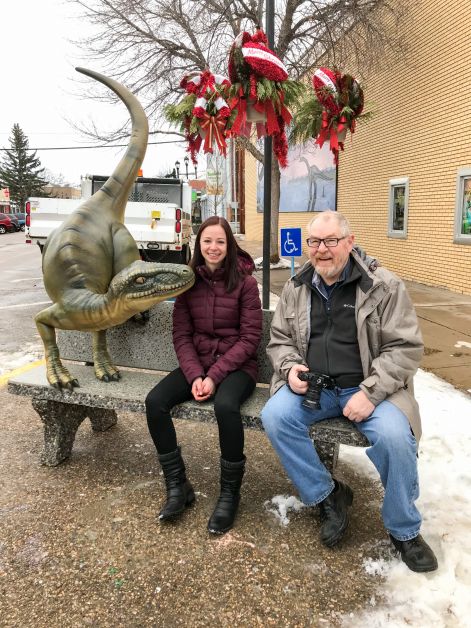 Thanks to the Drumheller DinoArts Association, three out of four corners of Third Avenue in downtown are now occupied by benches and detailed dinos.
The association picked this name after tradition of the other two dinos located on Third Avenue. It's name is 'Curt'.
"So far the other two at the four-way are named after real people so Gus and Effie are named after real residents in the area so we are doing that again," said Henneigh.
This particular reptile relative was made by Studio Y .
"We tried to design a dinosaur that was kind of more realistic looking than our previous ones but was still fairly friendly looking," said Henneigh.
The prehistoric themed bench was originally going to be unveiled for Canada Day but was rescheduled due to unforeseen problems.
"Good things are worth the wait, right?," said Henneigh.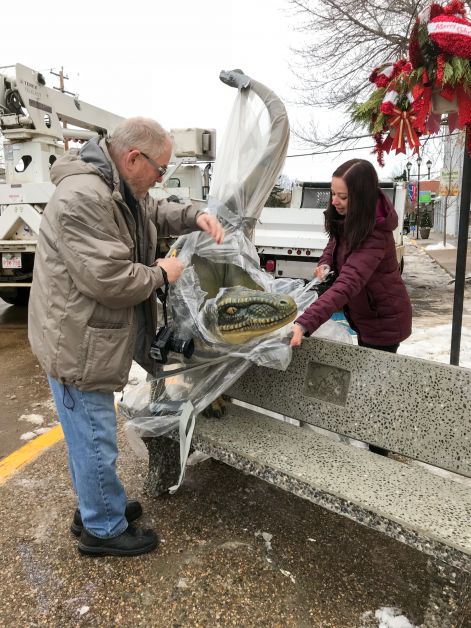 One new project is assigned each year as part of the DinoArts Association agenda.
"We've got a bunch of ideas already for 2018, we're looking at some art pieces."
The older triceratops that was in place at the Napier Theatre before has been donated to Kneehill County. They will be placing that dinosaur at Horseshoe Canyon.
The bench and dinosaur was paid for through the association's fundraising and the Chamber of Commerce by matching that amount raised.Marley Henneigh and Mike Todor sit on the new bench made possible by the DinoArts Association and the Town of Drumheller. Mailphoto by Terri Huxley
Photo Above: Marley Henneigh and Mike Todor sit on the new bench made possible by the DinoArts Association and the Town of Drumheller. Mailphoto by Terri Huxley