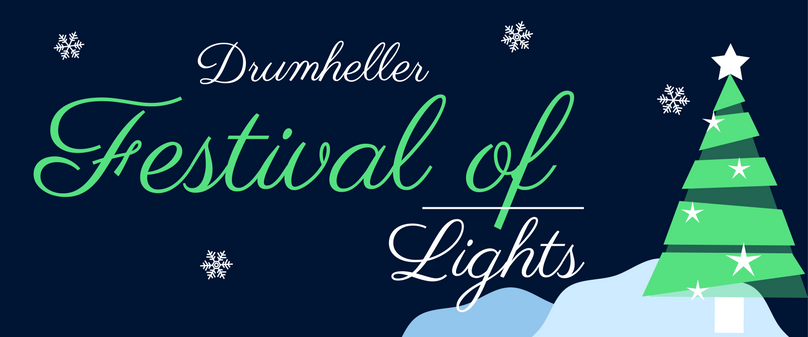 Drumheller Downtown will be home to a variety of winter activities, shopping, and stations at the new and improved Festival of Lights.
The festival on Saturday, November 18 will be larger than life as it is a final celebration of Canada's 150th year in the valley.
"It's a really great kick off to the festive season and we've been working through Drumheller FCSS, the Town of Drumheller, the Chamber of Commerce, and the community," said April Harrison, Family and Community Support Services (FCSS) Coordinator at the Town of Drumheller. "This is actually a community committee, it's not the town's gig, it's not FCSS's gig, it's not the chamber's gig, we're all working with downtown to put on this great event. It's going to be fantastic for the whole community."
The festival has s'mores, glow sticks, and cookie decorating stations dispersed around the downtown area, all manned by local organizations. The cookie decorating will be available from 4:00 p.m. until 8:00 p.m.
A horse-drawn carriage ride, made possible by Norma DeBernardo, will be a highlight as well.
It all starts at 4:00 p.m. with fireworks beginning at 9:45 p.m.
"We are looking forward to welcoming the whole community to indulge in some festive frivolity," said Harrison. "Our theme is a Canadian Christmas and the event will be primarily focused in the downtown commercial area where you can enjoy great entertainment including lots of local talent and our headline act; The Wheatland Band."
To make this event even more jam-packed full of things to do, local artists are performing on stage live.
Confirmed entertainers so far are the DVSS choir, Pioneer Trail choir, the Sea Cadets, Abby Fooks and Ashton Lal, Tricia Hatch School of Dance and AMR Dance, Isaiah MacDonald, Aaron Krabsen, and headliners The Wheatland Band.
The event promotes early Christmas shopping which will help ease consumers with tight budgets and time limitations and will help the economy by shopping locally.
"Lots of the stores downtown are going to be staying open late and are going to have different things to offer. I know that 3rd Avenue Arts is going to have big discounts available that night for shopping," noted Harrison.
The Ladies Gala is on the same night as well.
"Two things; one, you are at the Ladies Gala and you look out the window and you're going to get a great view of the fireworks but two, this is a great opportunity to send your husband downtown with the kids and do some Christmas shopping with you out of sight," Harrison said.
Kids are welcome to meet Santa and the Grinch throughout the day.
"Santa will be at Pioneer Trail between 5 p.m. and 6:30 p.m. There's also the Grinch. He will be wandering around Downtown between four and five. He's going to be in Jolene Powell's R&J Flowers from five until six because she is going to do grinch trees in there," Harrison explained.
To raise awareness of Family Violence Prevention month, Big Country Anti-Violence Association (BCAVA) is taking on the PutTheNailinIt campaign from US organization Safe Horizons.
"You're having a candy cane and an opportunity to get your ring finger painted purple to support family violence prevention month which is November," said Harrison.
The main attraction of the evening will go to the large Christmas Tree. After the sky grows dark, people will be lighting the tree which is full of different ornaments and lights.
Riverside Value Drug Mart plans to have more activities stationed in the parking lot. Active members of the Participaction Playlist can meet at Rotary Park to scratch more activities off their 150 playlist with weather permitting. Outdoor ice skating and shinny hockey are options.
"Bring your skates or bring your stick depending on the weather," said Harrison with a laugh.
A fireworks display is expected to polish off the evening thanks to the Drumheller Kinsmen Club, Drumheller Co-op, and Westergard Ford.
The Town of Drumheller's Light Up the Night contest will be taking place again this year as well, with the theme 'Canadian Christmas' to celebrate Canada 150.
Approximately 15 to 18 planters will be placed downtown with live trees to decorate; these will remain until after the new year.
If you end up feeling cold, burning barrels will be placed beside the sidewalks to help folks warm up.
To prepare for the event and allow for setup of the fire pits and stage, road closures of 3rd Avenue and Centre Street will take place starting around noon on November 18.
Full details of the event including a schedule of activities, the road closures and a map of local parking will be made available at www.dinosaurvalley.com and on the @DrumhellerFCSS Facebook page.