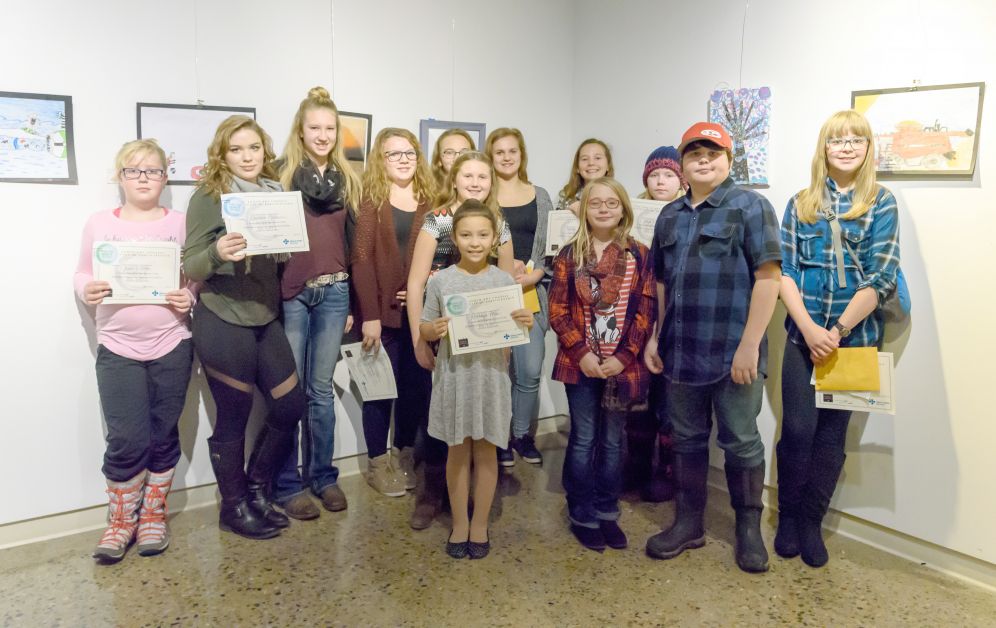 A variety of creative abilities were displayed in many forms at the Youth Art Contest held at the Badlands Community Facility (BCF) on November 2.
The contest was open to anyone from Grades 3 to 12 in areas OF Drumheller, Carbon, Wheatland Crossing, and Starland County. The contest asked for original artwork from the students, with the winners receiving prizes at the end.
"Oh my gosh! We were completely blown away this year," said Katie Suntjens, REACH Wellness Worker for Morrin and Delia Schools. "Last year was a lot more traditional art like drawing, sketching, and painting. This year we had such a variety like way more photography and sculptures. To double our entries too this year was awesome."
This annual initiative was made possible through partnerships with the Alberta Health Services Addiction and Mental Health team.
Their goal was to promote National Addictions Awareness Week, which occurs annually in November.
The week aims to raise awareness about issues related to substance abuse and problem gambling, and to highlight how individuals can take steps to ensure an addiction-free lifestyle for themselves and their families.
Another reason for the contest was to develop more assets within a child or teenager's life.
"There's 40 different developmental assets and the more assets that they have, the more likely they will be a more productive member of society," explained Suntjens. "It is our hope that this contest will showcase not only the talents of the youth who have entered but will also shed some light on the people who are in their lives and how they interact with them, building those assets with them."
51 entries were submitted from only two schools; Carbon and Morrin.
Three categories were noted for students to base their idea around. Category one asked "How do you make the most out of you?" which prompted thoughts about what makes a person feel inspired, happy, and full of fulfillment.
The second category asked 'How do you make the most of your family?'. It directed the student to think about family bonding and connections.
'How do you make the most of your community?' was the final category that students could invest in. It explored topics like clubs or groups and possible changes to create a better community in the future.
"They talked about what or who influenced them or helped them out whether it was family or friends and even in the community ones, they talk about how their community influences them and how they are affected by that," said Suntjens.
All winners were accompanied by a community donation. Things such as class registrations, museum admission packs, and gift certificates were up for grabs.
"Normally we don't do an honourable mention but we had tons of community donations in terms of prizes this year so we had the opportunity to offer prizes to honourable mentions as well," said Suntjens.
For Elementary, the best overall submission was won by Kate Rice of Carbon School. She won a Cotton Clayworks Studio class registration.
The best in the Make the Most of You category went to Jorja Russell of Morrin School where she won a Trekcetera Family Admission pack.
For the Make the Most of Your Family category, Taylor Macfarlane, Morrin School won a Sandstone Lanes $25 Gift Certificate.
Make the Most of Your Community in the elementary division went to Mitchell Nienaber of Carbon School. His prize was a family ticket package to the Drumheller Dragons.
Meghan McNaughton of Morrin School won best overall in the Junior High division, winning a Trekcetera Family Admission pack. First place winner for the Make the Most of You category went of McKenzee Olsen of Morrin School.
An honourable mention went to Mattie Jensen who is also from Morrin. They both received a Drumheller Dragons family ticket package.
The Make the Most of Your Family first place went to Nicole Wolf of Morrin School. An honourable mention went to Charly Graham of Morrin. Both winners got their hands on a Royal Tyrrell Museum Family Admission package.
Nathanyel Ferguson of Carbon School won a Drumheller Dragons family ticket package for winning the Make the Most of Your Community category.
For Senior High students, the overall best submission went to Madeline Cuncannon of Morrin School. She also won the Make the Most of Your Family category. Her prizes included two movie passes to the Napier Theatre and a set of family tickets for a Drumheller Dragons game.
There were no entries in the senior class for the Make the Most of You & Make the Most of Your Community categories.
On top of all the prizes awarded, a $200 Visa Card Classroom Prize was awarded to the Junior High classes of Morrin School. Staff Karla Nielsen, Michelle Jarvis, and Blair Raugust will be able to put that money towards art supplies.
At the end of the night event attendees voted for the "People's Choice Award".
Meah Richmond of Morrin School won, receiving multi-facility passes for the BCF & Aquaplex.
The artwork will be displayed in the Western GM Art Gallery at the BCF from November 1 to 14.