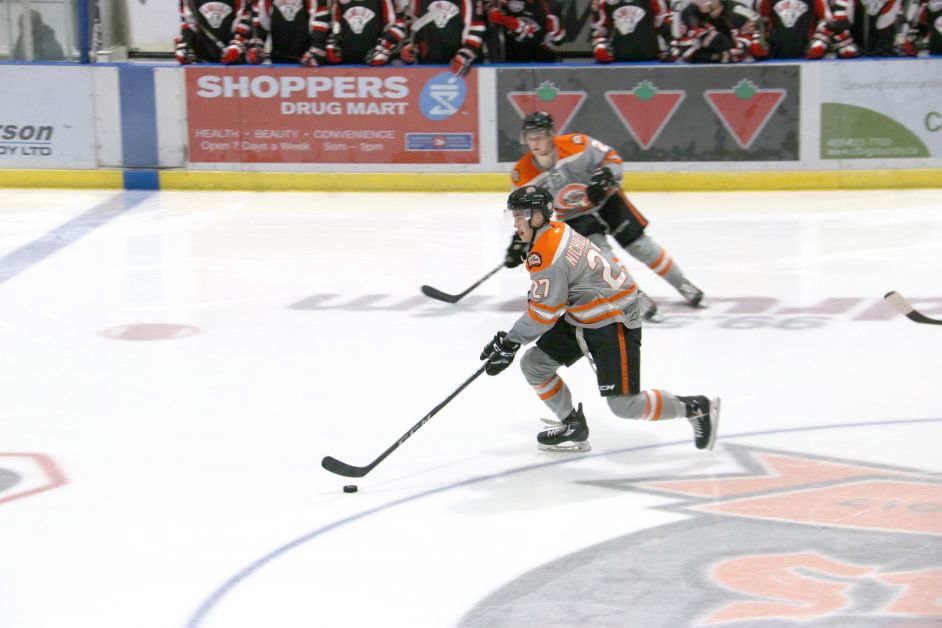 The Dragons had a busy week and managed to snag four of a possible six points.
The Dragons started the week off in Calgary on Tuesday, October 10 to take on the Canucks.
Calgary opened the scoring less than a minute and a half in on the powerplay, but Joren Patenaude evened it up by midway through the period. Calgary took a 2-1 lead to end the first. Markus Boguslavsky tied it up 16 minutes into the second period on the powerplay, but Calgary added another goal a minute later to make it 3-2The Canucks added one more in the third to make the final 4-2 Calgary.
They were undeterred on their trip to Sherwood Park on Friday, October 13 to take on the Crusaders. It took until 14 minutes into the second period for Boguslavsky to open the scoring on the powerplay. Brady Risk added a goal 40 seconds into the third period, and Boguslavsky added another powerplay goal in the third for the 3-0 shutout win. Dane Dow stopped 23 shots.
"Our goalies give us a chance to win every game and when you have that, you can't complain," said forward Tyler Kreklewich. "It gives the players confidence."
On Sunday afternoon, the Dragons didn't waste any time getting on the scoreboard at home versus Camrose. Andrew Kartusch scored just nine seconds into the game to put the Dragons up 1-0. The teams traded goals through the first, with Dragons on top 3-2 with two goals from Kreklewich.
In the second period, the Kodiaks evened it up four minutes in, but two minutes later Boguslavsky put the Dragons up 4-3. Dawson Bruneski scored on the empty net with 55 seconds left in the third period for the Dragons 5-3 win.
Kreklewich, who had two goals credits the team for his success Sunday afternoon.
"When you play with good players, they help you succeed and that is exactly what Taupert and Boguslavsky did, so it was a good game for everyone," said Kreklewich.
The Dragons keep building on their strong start and are holding on to the second spot in the AJHL Viterra South with a 9-3-1 record.
"We're moving the puck well this year, and we are a close team, so that helps a lot. So moving forward that is going to be a big thing for us," said Kreklewich.
The Dragons head way up north this week with games in Drayton Valley, Grande Prairie, and Whitecourt.