The Badlands Historical Museum, more than any other institution in the valley, celebrates characters that have coloured the history of the valley. This year they acquired a great addition to its display in remembrance of Jim Goudy.

It took over 600 man hours but the museum was able to get Goudy's HO model train set rolling down the track.

Jim Goudy passed away in 2014. He was well known in the community after settling in the valley with his family in the 1970's. He has a long career as a civil engineer and later opened Sun Valley Farms in the valley.

Upon retirement, he found a creative and constructive outlet in building model trains. The family decided to donate the train set after he passed away.

"He worked on it for six years," his daughter Tracy Lee Shannon told "the Mail". "I worked on it with my dad for years off and on. I'm an artist so I did some of the background and painting."

The display is impressive with handcrafted buildings and landscapes. Having lived the majority of his life in Alberta, the display reflects much of his experience. It is based on a 1950's village. The coal history and the prairie life are reflected.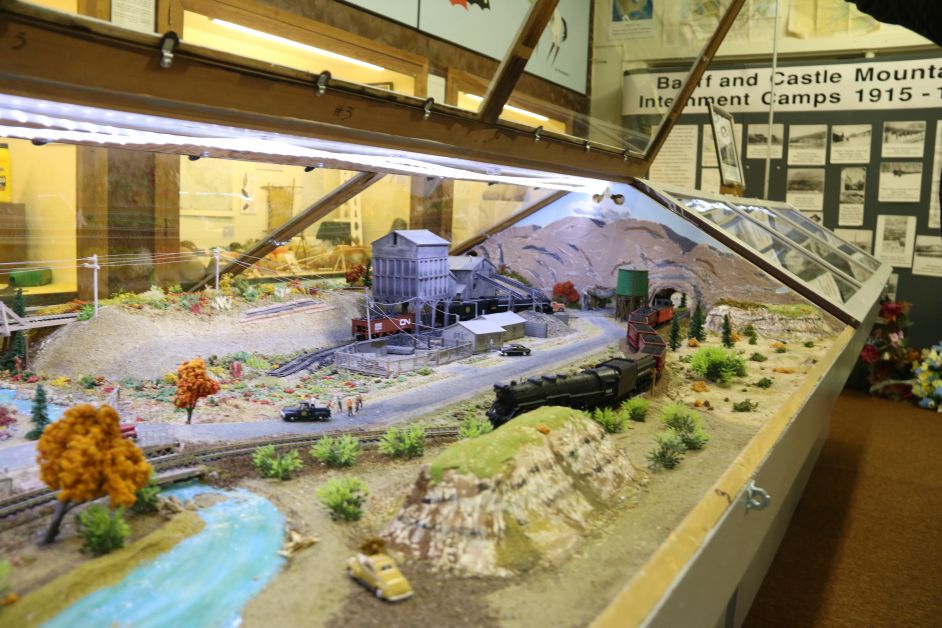 Over 90 per cent of the buildings were built by hand.
Shannon worked closely with Christine Jakubowsky, a volunteer at the museum to connect some of the history reflected in the display.

One big component is the family home in Olds, where Goudy raised his family prior to coming to the valley. The big yellow house was built in 1904 and the family lived in the home during the 1960's and 70's. Today it is called the Auberge Brown
House and operates as a bed and breakfast "There is lots of history there," said Shannon.

To get the display out of Goudy's basement and into the museum was a concerted effort. It came out in three pieces and was reassembled, fitting into a series of display cases at the Museum. Pat Thompson took on the task and had a crash course in model railwaying.

"It had to be broken down to fit in the cabinets. Once he got it in, he had to rebuild the tracks and get the engines operating," said chair of the Badlands Historical Centre Sheresse Thompson. "He rebuilt the structures and did the detail work on the scenery."

He logged over 600 hours putting the set together.

The railway is now on display and the museum is working on planning a grand unveiling in the near future.