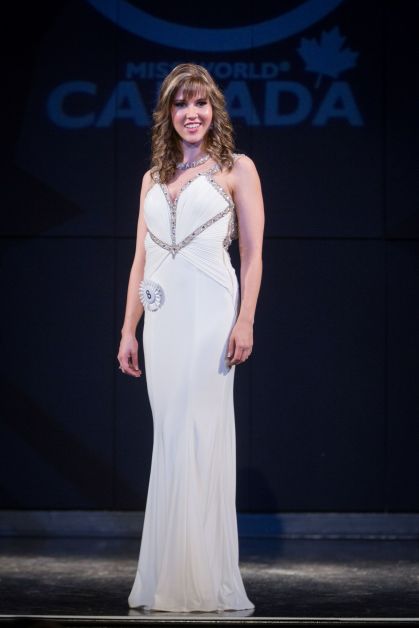 57 women, 13 provinces and territories, one crown.
Miss Starland County, also known as Michelle Sharrun, represented the area well at the 2017 Miss World Canada competition in Toronto from July 16 to 23.
Through this seven day experience, she has created life-long friends and has learned valuable lessons.
"We made about 57 new sisters – that's what we say," said Sharrun.
After the first day of introductions on July 16, the girls are whisked away to multiple different venues, photoshoots, and personal preparations for the final crowning all whilst being judged and awarded points. Sharrun's favourite part was the runway at Cabana's in Toronto.
"The runway was over a pool the whole time and it was stressful but no one fell in," Sharrun laughed. "We had to cross each other within four feet."
Although Sharrun has only been in pageantry for less than a year, she was able to represent her province with grace.
"It was amazing, it was a lot of work – a lot of busy days," said Sharrun. "Like some days we had to be up at five in the morning to be on Good Morning Television or Breakfast Television on CTV."
Rules and etiquette always apply when in competition.
"We have to wear our crowns and our sash all day long, because I was Miss Starland County and representing Alberta," said Sharrun.
Beauty with a purpose is a section of the competition that allows everyone to present a speech on a specific topic that is influential or important to them. Sharrun naturally chose suicide prevention as she is heavily involved in the topic.
"Speaking was my strong point because I already do that," said Sharrun. "I'm a suicide prevention advocate and I do it in schools every year. It was cool seeing everyone else's beauty with a purpose and their stories behind their daily struggles."
With pageantry and its sometimes not so good reputation, Sharrun revealed to "The Mail" there is much more to it than meets the eye.
"I definitely thought the women in it were just pretty and dumb, like they don't have a brain, but I mean a lot of them are geniuses. One girl works for Apple and she travels around the world, she was runner-up. It's amazing, it's like the stuff these women can do makes me want to do better," Sharrun said.
She does not plan to go back into pageanty after her year is over as Miss Starland due to the time it takes and the fact she also holds three jobs at Chopped Leaf, Hope College, and Decks, Bathrooms, and Beyond.
"I loved it and it was a great time but it is just so much work that you almost need to do pageants full-time," said Sharrun.
The Miss World Canada title was won this year by Cynthia Menard where she will represent Canada on the world stage in China.