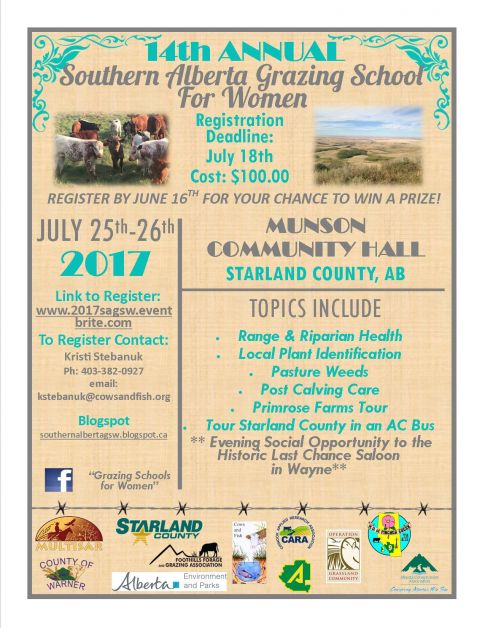 Spots are filling up fast for the 14th annual Southern Alberta Grazing School for Women held by Starland County.
After ten years of being on the Southern Alberta Grazing School for women committee, Starland County is able to host the event for another year, running from July 25 to 26.
"It rotates throughout southern Alberta," said Dara Kudras, Assistant Agriculture Fieldman of Starland County.
Starland has hosted twice before with both successful attendance rates.
"It usually always sells out," said Kudras. "We take 45 registrants and then 5 industry people."
On the first day, the school focuses on range and riparian health, weeds, grazing principles and water systems for cattle and pastures as well as plant identification.
"We do a plant ID quiz out in the field as well," said Kudras.
To finish up the day, the Last Chance Saloon out in Wayne hosts a supper for the large group.
For the second and final day, the morning consists of classroom style learning of riparian health assessments and the role of beavers and other important contributors to the ecosystem.
Ranching women will also be coming in to speak about their own operations like Jesse Williams from Special Areas.
Tamara Quashnick with Steadfast Veterinary Services will give a speech on post-calving care. "She is a really good speaker," said Kudras.
In addition to the morning classes, a talk on verified beef and social license will be presented from a Canadian Beef round table member.
After that, everyone hops onto a well-maintained bus for a field trip up to Primrose Farms located south of Big Valley. A tour of the robotic dairy and mixed farm operation will be the highlight of the trip.
"Cremona Primrose is one of our ranching women so she is going to talk a minute about her story," said Kudras. "She's got pigs and chickens and all kinds of things."
After visiting Prim rose's, the group will travel to Calvin Raessler's 'Top Grass Beef' farm where the range health assessment and plant identification quiz will take place.
"It's just a really nice setting, it's right below the Hand Hills and I think it's a little bit different for the people that come from down south," said Kudras.
Kudras is beyond excited to share her love of the land through education and experiences.
"It's going to be a jam packed two days – I'm just excited to showcase Starland County and show what we have to offer."
To sign up for the event, click the link here.