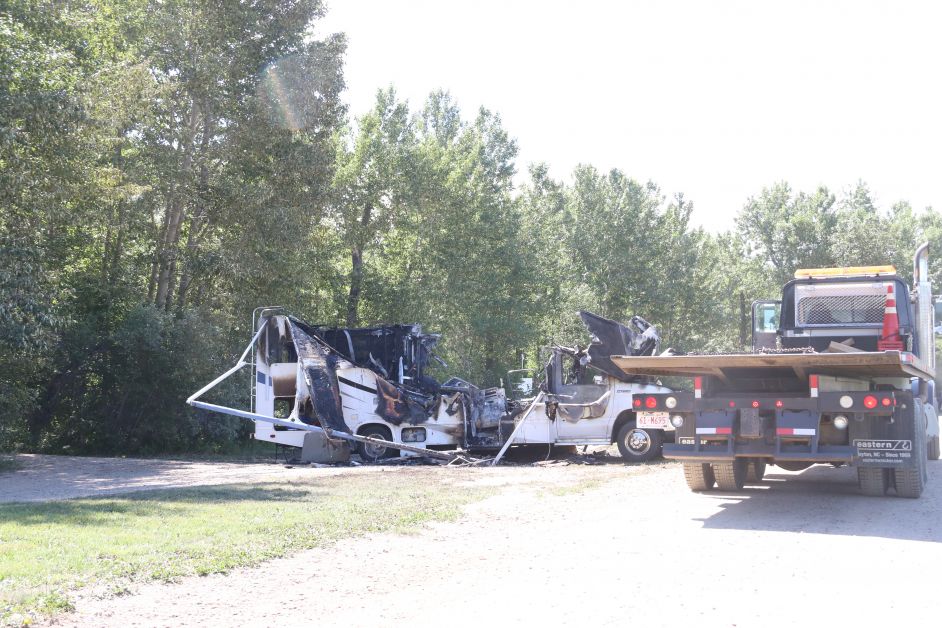 If it weren't for the quick thinking of the owner of a motorhome that burst into flames last night the damages could have been much worse.
At about 9:30 p.m. on Thursday, June 29 the Drumheller Fire Department and the Rosedale Hall were called to a fire at Pinters Campground. Fire Chief Bruce Wade says that while the fire is still under investigation, it is not suspicious and appears it was a mechanical issue.
"It looks like it had to do with the fridge. He pulled into the site and put power to the unit, and noticed a fire around the vent of the furnace," said Wade.
The owner of the motorhome made sure his wife and young child were out of harm's way, and then quickly drove the unit out of the campsite surrounded by trees and bushes.
"That was really good on his part," said Wade. "The damages were just to the motorhome unit."
The department responded with pump trucks from Rosedale and the Drumheller hall, a tank truck and about 10 firefighters.
There were no injuries and the family was graciously put up in a cabin at the 11 Bridges Campground down the road. A tow truck returned Friday morning to pick up the burned out motorhome.